Hearts and Diamonds
By Ernie Kyger
My Dad pointed up toward the roof of DC Stadium and kidded me that they held motorcycle races up there when the Senators weren't playing. I may have been only 8 years old, but I still didn't believe him. We walked up to the ticket window where there was a sign that had the Senators slogan of the year, "Off The Floor In '64". "First in war, first in peace, and last in the American League" was another slogan that was heard equally as much by the sarcastic detractors of the team.
I remember how bright the grass was as we walked to our General Admission seats right along the first base line. Maybe it impressed me because it was the first time I saw a major league baseball field in color, the Senators were always in black and white on Channel 9. DC Stadium looked like the biggest building on earth, with the upper deck seating reaching up towards the sun.
"There's Eddie Brinkman! There's Jim King! There's Chuck Hinton! There's Gil Hodges!" My Dad didn't realize that I knew every player on the team already. "Wow! They throw the ball so fast, and this is just the warm-ups!"
The Senators lost that day to the New York Yankees, 3-2. Mickey Mantle and Roger Maris didn't hit any homeruns, but Jim (Ball Four) Bouton outdueled the Nat's Dave Stenhouse and I was ready for more.
My love and loyalty for the Senators never waned, and neither did the Senators penchant for losing baseball games. I never missed a TV game, and usually fell asleep to the radio with Dan Daniels and John McLean and their play-by-play of the Nat's late night west coast trips. Every once in a while, I would watch the Orioles on channel 13. The Orioles usually won, but their games were always very snowy on the screen, being so far away and all.
Then came 1965! Finally something for Senators fans to get excited about! The Nats traded pitcher Claude Osteen and infielder John Kennedy to the LA Dodgers for outfielder Frank Howard, pitchers Pete Richert, Phil Ortega, and Nick Wilhite, third baseman Ken McMullen and first baseman Dick Nen (father of SF Giants closer Rob Nen.) Everybody knew we were going to win the World Series after that! Well, we still didn't win, but we were more exciting! Frank Howard hit so many tape-measure homeruns that they began to paint the outfield seats white when one of his homers landed there.
Then came Spring, 1968. I got a note from my boss at the Washington Daily News with the bundle of papers I had to deliver that day. The note said to call him immediately. "This can't be good" I thought. "Ernie, do you like baseball?" he said, "You have won our sales contest." Two weeks later I was enjoying the sunshine of Pompano Beach, Florida and spring training with my beloved Senators!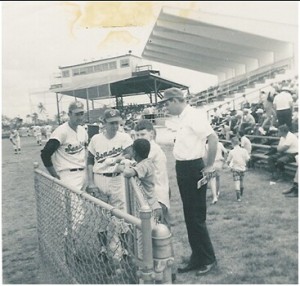 Russ White had the Senators beat for the Daily News and he was more or less my guide while I was there. I felt like I already knew Russ because I had read every word about the Senators that ever came out of his typewriter. I had mentioned to him that I was a pitcher on my Little League team and that I had been trying to learn to throw a spitball. The spitter was a big issue at the time and Sports Illustrated had a cover story on it the week before. Senators pitching coach Sid Hudson had publically prohibited any of his pitchers from throwing it.
For some reason, perhaps he was looking for a human interest story, Russ told Senators catcher Jim French that I was working on a spitter. Next thing you know I am throwing on the sidelines to a real major league catcher with a group of Senators players (Bob Saverine, Darold Knowles, and Bob Humphries) gathered around watching before the exhibition game with the Houston Astros! I was too darned nervous to get the ball to sink, or even get it near the plate. That didn't bother Frenchie though. In the dirt or 2 feet outside, he nonchalanted everything. The best catcher I ever had! What I will remember most about my time in Florida was having breakfast at a table next to a bunch of players and seeing Frank Howard have two strawberry milkshakes, for breakfast!
After every Senators game at RFK (in 1969, DC Stadium was renamed Robert F. Kennedy Memorial Stadium) I would wait at Gate A outside the ball park to get autographs from the players as they left. I met every Senators player and every player in the American League in the 1960s. My autograph book is priceless to me. I even got an autograph from Joe DiMaggio, who was a coach with the Oakland A's in 1969.
It was the best year in expansion Senators history. It was the expansion Senators only winning season. It marked the return of Ted Williams to major league baseball, and the new ownership of Bob Short. "It's a whole new ballgame!" became the rallying cry. It was a magical season, with Dick Bosman edging Jim Palmer to win the AL's ERA title, and Frank Howard hitting over 40 homeruns for the second straight year, and Mike Epstein finally living up to the hype by adding another 30 home runs to the lineup. Attendance soared! The Senators finally seemed to have it going!
The team's fortunes went downhill in 1970, and 1971 was even worse. Bob Short traded away Ed Brinkman, Aurelio Rodriguez, and future 20 game winner Joe Coleman for 2 time Cy Young Award winner and former 30 game winner Denny McLain. Short also persuaded former St. Louis Cardinal outfielder Curt Flood (of reserve clause fame) to come out of retirement. The sore armed McLain lost 22 games; Flood didn't last 2 months before he left the team to become an artist in Barcelona Spain. Those former Senators players now Detroit Tigers were instrumental in the Bengals division championship in 1974.
The vote was 10-2 by the American League owners allowing Short to move the team to Texas (the White Sox and Orioles voted against it). September 30, 1971 was the night when "play ball" was cried out for the last time. For those who remember, it remains a heartache.
Frank Howard lead a great Senators comeback with a homerun in the 6th inning that saw the Nats take a 7-5 lead over the Yankees with 2 out in the ninth. Then the fans stormed the field. I was on the field too. I didn't run or try to steal turf or do anything destructive, I just wanted to have my say. I think all the fans wanted to have the final say. It was a feeling of frustration I would experience several times in later years, during the strikes. It seems the little guys are always last in the pecking order in the world of big business.
When the Senators left in 1971, they had the worst team in baseball, and the highest ticket prices. It cost $2.50 for a general admission ticket to a Senators game. Up in Baltimore, where the defending World Series champion Orioles won their 3rd consecutive pennant, a general admission ticket was just 75 cents. 55 cents if you were under 14! At the 7th game of the 1971 World Series in Baltimore, my Dad and I walked up to the gate, bought a ticket, and walked right in and saw Roberto Clemente's homerun bring the world championship to Pittsburgh. In 1972, without competition from the Senators, Orioles attendance dropped by almost 200,000, and yet they still won their 4th consecutive division title.
There was no way my allegiance could transfer to Texas with Bob Short. The Orioles were a good team, and close enough that I could see them on weekends. For me, it was hard not to like the Orioles. They were not a big market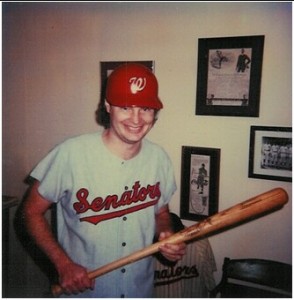 team. They could not succeed by buying victories like the Yankees. They did it on brains. You have to respect that. They pitched, they played defense, they hit 3 run home runs and they grew their own talent. When they did make a trade or picked up a free agent, it was not so obvious. Steve Stone was a .500 pitcher who commanded the modest price of $200,000. All he did was win the Cy Young Award in 1980. Reggie Jackson was a bust, but the trade of Elrod Hendricks and some throw-ins to the Yankees for Scott McGregor, Rick Dempsey and Tippy Martinez remains one of the most one-sided deals of all time.
You had to respect the Orioles, yet, the heartache never left. Washington had its own identity and its own history. All was not right with the world until things were returned to their proper place.
I became involved with the DC Baseball Commission and with the Washington Senators Fan Club. We organized rallies to generate enthusiasm for major league baseball's to return to Washington. At my own expense, and with my press credentials from WWDC Radio, I attended the baseball winter meetings year after year. We held an event at RFK Stadium where several Senators players returned and we played a taped radio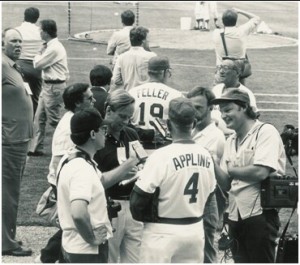 broadcast of the final Senators game in 1971 (that I discovered years earlier in the hands of former WWDC engineer Don Rice). I produced several radio shows on DC Baseball. My guests on these shows included Frank Howard, Morris Siegel, Warner Wolf and even Jack Kent Cooke. The efforts all throughout the 70s, 80s, and 90s failed. It seemed that baseball was using Washington as leverage to get things from others, but did not take us seriously. The heartache continued.
Now the Expos are coming to DC. I had mixed feelings as I watched the final Expos home game on the Internet. I knew exactly how those people in Montreal felt. That night I was an Expos fan. Now, I am numb. I may not believe it until I am sitting at RFK watching the Nats and Diamondbacks on Opening Day in 2005. I am sad my father, who passed away in 2002 will not be there with me.
The economics and politics and all the issues surrounding our new team are a fact of life in the real world, necessary, but not always pleasant. The one thing I can say for sure is that this new team can bring us all together. As a community, we have been brought together by the terrorist attacks, and by the snipers. A sports team can bring a community together in a positive way, in a way that can last for generations.
A few years ago, my dad and I watched Mark McGwire take batting practice before an exhibition game at RFK. In my youth I told my Dad that no one hit the ball further than Frank Howard! My Dad said he saw Babe Ruth hit them much farther. Then, to our non-believing eyes, McGwire hit one off the roof of RFK. That discussion was over.
and last in the American League, Aurelio Rodriguez, Babe Ruth, Bob Feller, Bob Humphries, Bob Saverine, Bob Short, Claude Osteen, Cracker Jack Old Timers Game, Curt Flood, Dan Daniels, Darold Knowles, Dave Stenhouse, Dick Bosman, Dick Nen, Eddie Brinkman, Elrod Hendricks, Ernie Kyger, first in peace, First in war, Frank Howard, Jack Kent Cooke, Jan Dukes, Jim (Ball Four) Bouton, Jim French, Jim Palmer, Joe Coleman, John Kennedy, John McLean, Ken McMullen, Luke Appling, Mickey Mantle, Mike Epstein, Morris Siegel, New York Yankees, Nick Wilhite, Pete Richert, Phil Ortega, Phil Woods, Reggie Jackson, Rick Dempsey, Rob Nen, Ron Hansen, Russ White, Scott McGregor, Sid Hudson, Sports Illustrated, Steve Stone, Ted Williams, Tippy Martinez, Warner Wolf, Washington Daily News, WWDC