Joe Coleman's Summer of '69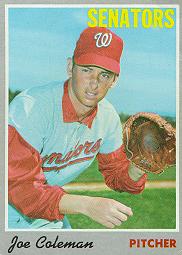 Joe Coleman, all of 22 years-old, trudged to the Senators' dugout after retiring the Boston Red Sox in order. Coleman glumly walked off the Fenway Park mound because he knew Ted Williams would pinch hit for him when his turn in the order came the next inning. Washington trailed, 4-2 and needed some late game offense.
The runs never came. The Senators lost, 4-2, putting a damper on Coleman's 1969 Independence Day. Young Joe took the loss that day, surrendering home runs to Carl Yastrzemski and Reggie Smith. Williams trudged through the visitor's locker room and said nothing to Coleman. The two had a stormy relationship in Washington.
The third pick in the first round of the 1965 amateur draft, earning a $65,000 signing bonus, Coleman's record fell to 4-7 and his ERA rose to 4.44. Other less highly touted Washington pitchers like Casey Cox and Dennis Higgins had thrived, heeding Williams' call to throw more sliders. Coleman refused, sliders hurt his arm and he already possessed a devastating forkball, but looked foolish for doing so.
The season half over, Coleman looked like a bust. Then, suddenly, everything fell into place. For the next 30 innings, including three consecutive shutouts, no opposing runner crossed the plate while Joe Coleman was on the mound.
Over those three shutouts, (July 9 vs. Cleveland, July 14 vs. Detroit, July 19 at New York), Coleman allowed 11 hits and walked 12. He struck out 31 batters. Each game more dominant than the last, Coleman ended his completely unexpected run with a 2-hitter against the Yankees in which he faced only 29 batters.
The shutout streak turned the corner on Coleman's season — and career. For the second half of the 1969 season, over 19 games (18 starts) and 131.2 innings pitched, he turned in an 8-6 record and a stellar 2.25 ERA. Coleman finished with a flourish — two complete game wins in which he surrendered three runs, but only one earned.
The dejected young man who looked lost on July 4, 1969 ended up being Washington's workhorse. Dick Bosman won the ERA title, but Coleman ate the innings. His 247.2 IP and 12 complete games led the Senators' staff by far.
With 1969 behind him, duplicating his 1968 breakout season ERA of 3.27 in a year with much better hitting, Coleman never looked back. He pitched more than 200 innings over the next six seasons, winning 94 games and losing 80. He pitched the game of his life in the third game of the 1972 American League Championship Series, shutting out the eventual World Champion Oakland A's and notching an incredible 14 strike outs.
Alas, most of these great seasons came not for the Senators, but for the Detroit Tigers. Coleman was the gem of the Senators' trade for the irascible Denny McClain, perhaps one of the worst deals in baseball history. Not even Jim Bowden could match Bob Short's poor judgment in making a deal.
Joe Coleman went on to a long, distinguished career in baseball. He played 15 seasons and won 142 games. He coached 12 years in the major leagues and countless seasons in the minors. For the past five seasons, Coleman was pitching coach for Detroit's low Class A Lakeland Flying Tigers. Unfortunately, he was fired from that position this September. Here's hoping the young man who gave Senators fans so many gems to cherish catches on with another club for the 2012 season.
You can read more about Joe Coleman and his 1969 Senators' teammates in Steve Walker's excellent book, "A Whole New Ballgame: The 1969 Washington Senators" available on Amazon: http://amzn.to/AzaNta or direct from the publisher, Pocol Press: http://bit.ly/y51taI