Nationals Sign Former Phillies Closer Lidge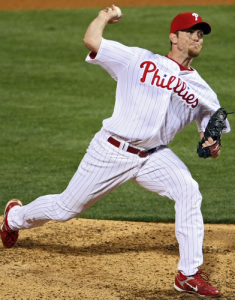 A day after introducing Gio Gonzalez as the potential keystone of the pitching rotation, the Nationals have shored up their bullpen as well, announcing on their Web site the signing of former Philadelphia Phillies closer Brad Lidge.
Lidge, who has 223 career saves, has been limited the past two seasons by elbow and shoulder innings. But when he was able to pitch last year, he was effective, holding batters to a .250 average and compiling a 1.40 earned run average last season, according to mlb.com.
The deal is for one year, although financial details were not disclosed. However, Jim Salisbury of CSNPhilly.com, who first reported the deal between the Nats and Lidge, reports that the deal is worth $1 million and includes incentives.
The team did not make an immediate announcement about what role the 35-year-old would fill in the Nationals bullpen, but Adam Kilgore of The Washington Post says he will likely move into a setup role for Drew Storen, joining Tyler Clippard and Henry Rodriguez. He will most certainly provide some veteran leadership to a relief staff that, while among baseball's most talented, is also among its youngest.
By many accounts, Lidge's injuries in recent seasons have curtailed his fastball, but according to Salisbury, he was able to work his way out of jams with the devastating slider that helped him earn his reputation. Salisbury's report indicates that Lidge has been working diligently to strengthen his arm this off-season.