Big Train's Throw Across the Rappahannock River
February 22, 1936
Fredericksburg, Virginia
To celebrate George Washington's 204th birthday the town of Fredericksburg planned a daylong celebration. To cap off the day the city invited baseball legend Walter Johnson to duplicate George Washington's legendary throw of a silver dollar across the Rappahannock River.
As the story goes U.S. Rep. Sol Bloom, D-N.Y. believed the coin throw was physically impossible. The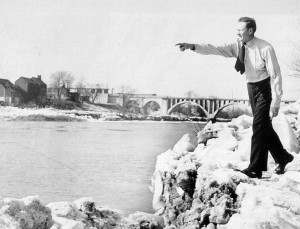 Congressman felt so strongly the Big Train would fail in his attempt to duplicate Washington's throw he offered to bet anyone $20 to $1.The Free Lance-Star was quick to take that bet, and asked the citizens of Fredericksburg to take the bet on the understanding all winnings would go towards the purchase of the Ferry Farm, Washington's boyhood home, so they could turn it into a museum.
All together, the citizens and the paper raised $5,000 to wager against the Congressman from New York. It was reported by the Associated Press that the Big Train had some doubts about the throw. Walter was concerned about the distance. He said that he can throw hard but he could not really throw for distance. He was also concerned because of all of the money being wagered.
It was agreed that Walter would get three attempts to match Washington's throw. With 4,000 spectators watching the Big Train failed to reach the other side with the silver dollar on his first throw. To the joy of the large crowd Walter was able to clear the river on his next two attempts. The third throw was measured at 286 feet, and was recorded as the official throw. After it was all said and done Sol Bloom refused to pay the citizens $100,000 citing that the river was narrower than it was when George Washington made his throw, plus the silver dollar did not exist at the time of Washington's throw. It is said that George Washington actually threw a piece of slate the size of a large coin across the river when he lived at the Ferry farm. It may never be clear what George Washington threw across the river but it is clear that on February 22, 1936 Walter Johnson threw two silver dollars across the Rappahannock River.