Chad Cordero Memories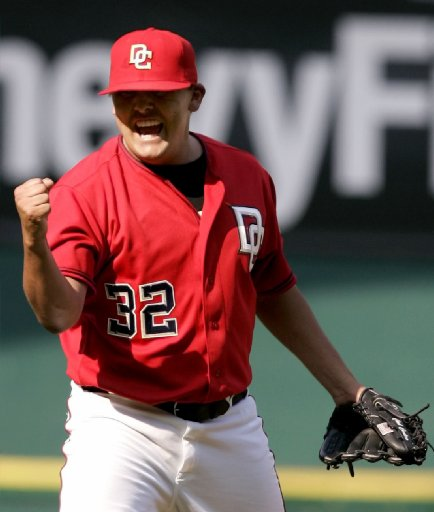 Few Washington Nationals fans will forget the wonders of June 2005 when the infant Nationals, in their inaugural season since baseball inexplicably allowed the national pastime to depart the nation's capital, rocketed to first place in the National League East with a 47-31 record. The Nationals completed their dream month with 20 wins in 26 games.
The hero of Washington's astounding rise was a 23-year old youngster in his second big league season, number 32, Chad Cordero. The round-faced closer looked completely unworthy of his starring role. Short, unathletic-looking, even a bit rotund, Cordero threw a mere 91 MPH fastball and a middling slider.
Yet, as the Nationals' closer, his paint-the-black control and quirky delivery left opposing hitters slamming their bats to the ground in frustration as they popped out, took a called third strike, or flailed at Cordero's "invisiball." He possessed the bravado of a cat burglar and the heart of a lion.
Ultimately, Cordero would save 47 of the Nats 81 wins that season, a year that gave Washington its only taste of a pennant race to date. Rightly so, fans probably most savor his preserving of Livan Hernandez's win on Opening Night when baseball returned to RFK Stadium. A second game, because of its significance and because it was the first baseball game in Washington I saw with my entire family, holds almost as lofty a place in my memories.
The date was June 30, 2005, a Sunday afternoon game against the Pittsburgh Pirates (who my wife, being a Pittsburgh native, annoyingly rooted for). The final game of a 5-game home stand before the Nationals left for Wrigley Field in Chicago.
Early on, it looked as if Cordero's services would not be needed. After three innings, Washington led 6-0 and the Pirates' starting pitcher Kip Wells and manager, Lloyd McClendon had departed, McClendon for arguing balls and strikes after Wells' fourth walk in two innings. For the Nationals, starter Esteban Loaiza had a no-hitter going after four innings.
Just when it looked like my family (minus my wife) and more than 37,000 fans could settle in for a relaxing summer afternoon at the ballpark, maybe even see a no-hitter, Pittsburgh's hitters awakened. After 6 innings, the Nats led by only two runs, 6-4. Hector Carrasco and Gary Majewski held the lead through the seventh.
Vinny Castilla's sixth homer of the season gave the Nationals a 7-4 lead and things looked safe again with only 6 outs to go. However, Pittsburgh led off their 8th with three consecutive singles against Luis Ayala. Suddenly, the Pirates had runners on the corners with no one out. Catcher David Ross hit a line shot to right, but Jose Guillen tracked it down and held Daryl Ward at third with a rocket throw. Next, Ayala snared a hard grounder and trapped Ward off of third and retired pinch hitter Matt Lawton to escape the jam.
The Nats failed to score and on came Cordero, attempting to save his 15th game in June, which would tie him with Lee Smith and John Wetteland for the most in a single month. The crowd came to its feet, but the applause felt nervous. Many times, Cordero's saves felt like a high-wire escape act.
Cordero obliged again. The first Pirate batter singled and the next doubled, placing the tying runs in scoring position and three outs still to go. After a flyball to shallow right, too short to test Guillen's arm, and a strike out, Ward, a huge left-handed slugger who would join the Nats the following season, came to the plate. Out came manager Frank Robinson, ordering his young closer to issue an intentional walk, loading the bases with the potential winning run.
Ryan Doumit was the Pittsburgh hitter. Fearless, Cordero pumped in fastballs as I sat slumped in my seat, afraid to stand, but unable to look away. When the count ran to two strikes, the crowd rose again, this time cheering to a crescendo as only a full house at RFK can.
Cordero threw his fastball, but it wasn't invisible this time. Doumit swung and the crack of his bat could be heard above the cheers. The ball sailed into right centerfield, deep, but not deep enough. Guillen jogged into the gap and made the game-ending catch.
Cordero had done it — 15 saves in a single month. The Nationals were in first place. It was summer. School was out. I was watching baseball at RFK Stadium! (Did I mention the Nats were in first place?). After waiting 33 years, I still savor every single game in Washington, win or lose — but seldom has being a Washington Nationals fan been more fun than it was on June 30, 2005.
You can find a complete box score and play-by-play account of this game at this link on Retrosheet: http://www.retrosheet.org/boxesetc/2005/B06300WAS2005.htm
Steve Walker is the author of the  book, "A Whole New Ballgame: The 1969 Washington Senators" available on Amazon: http://amzn.to/AzaNta or direct from the publisher, Pocol Press: http://bit.ly/y51taI