Zim Agrees to 6-year $100M Extension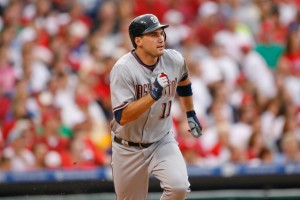 "The face of the franchise," Ryan Zimmerman, is now guaranteed to be a Washington National through at least the 2019 season.
Zimmerman, the first draft pick after the team moved Washington in 2005 and its starting third-baseman for the past six seasons, agreed to a contract extension this morning worth $100 million over six seasons, The Washington Post's Adam Kilgore reports.
It also includes a $24 million club option for 2020, when Zimmerman will turn 36. Adding in the $26 million he will make over the next two seasons, Zimmerman is guaranteed $126 million through 2019 and $150 million if the team picks up his option for 2020.
Zimmerman is already considered one of the game's best players, with career numbers of .288/.355/.479, with 128 homers, 214 doubles, 498 RBIs, and a reputation as a top defensive third baseman. This contract puts him in company with the game's current elites.
Kilgore reports that Zimmerman will become the second-highest paid third baseman in major league history, behind Alex Rodriguez, and only eight players in baseball are guaranteed more than Zimmerman's $126 million after this season.
Furthermore, he joins Albert Pujols, Prince Fielder, Troy Tulowitzki, Ryan Braun and Matt Kemp as the only players signed through 2019.
Zimmerman also received the full no-trade clause he was seeking. That seemed to be the final sticking point that kept the two sides negotiating after Zim's self-imposed deadline of the first full-squad workouts yesterday.
Zimmerman, who is from the Virginia Beach area and attended the University of Virginia, was adamant that he receive the security of playing close to home after opening contract talks in the wake of an injury-shortened 2011 season. Limited to 101 games by an abdominal injury, Zimmerman hit .289 with 12 home runs and 49 RBI.
The two sides had made enough progress by yesterday afternoon that they agreed to keep working through the day and overnight to get the deal completed, according to Pete Kerzel of MASNsports.com, along with Howard Fendrich of The Associated Press and MLB.com's Bill Ladson.
Now he and the team can concentrate on having a productive 2012 season. With Zimmerman locked in, a bolstered pitching staff and touted prospect Bruce Harper working to make the team, the Nationals are hoping to contend in the National League East or at least post their first winning season in Washington.
"It's a relief," Zimmerman told Kerzel and Ladson this morning, "It's a lot of stuff to work out. It's a big commitment. Things like that don't get done quickly. Both sides worked tirelessly to get this stuff done. Now, we don't have to worry about it anymore."