1969 Senators Spring Training — Hondo's Holdout
1969 Senators Spring Training — Hondo's Holdout: Part 4 of a 5-Part Series
As spring training in Pompano Beach continued, Ted Williams and his charges learned more and more about each other. Williams professed his hitting philosophy, "wait for a good pitch to hit" and being patient at the plate so walks would increase.
Teddy Ballgame also revealed to his pitchers the mental process he went through as a hitter, inside information from one of the greatest hitters of all time. He told them the pitches he looked for in each count and how he could discern a pitchers' pattern. He also ordered them all to throw sliders, the pitch he found toughest to hit.
As the Senators attempted to put their leader's lessons into practice, they bumbled to eight consecutive losses to open the exhibition season. Sportswriters nodded knowingly to each other, "Yep. Same old Senators. Not even the Splendid Splinter can fix 'em."
Yet, in addition to the void of wins, something else was missing from the Senators' camp. A huge absence that left a massive emptiness in the team and in fans' hearts.
Frank Howard, the face of the franchise, the Capital Punisher, the Gentle Giant, Hondo, the only All-Star the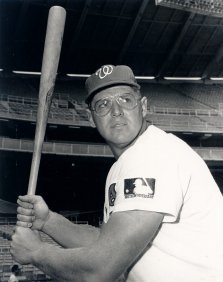 Senators had, sat at home in Wisconsin, holding out until Bob Short met his audacious demand for a three-year, $300,000 contract. Few players in 1969 made even $20,000 and only Willie Mays, and perhaps a handful of others, had ever earned $100,000 in a single season.
Rookie owner Short fumed and sneered at the outrageous demand. Howard's teammates and sportswriters, on the other hand, only snickered. They knew what the rube Short had failed to realize — Hondo held out virtually every year.
Howard despised spring training because he knew he would arrive overweight. Sid Hudson, the Senators' pitching coach who doubled as the weigh-in man, said Howard usually tipped 300 pounds. Hondo knew he'd have to work like a dog to sweat off 25 pounds by Opening Day.
Hudson, now deceased, said, many years ago, "I could never get big Frank on that scale."
Howard said, "Sidney could never get me on the scale because I was always overweight."
So, as Hondo sat at home, presumably drinking his beloved beer and adding pounds, Short took the bait. He made numerous "best and final" offers. Howard spurned them all. He told The Washington Post in early March, "I'll burn in hell if he expects me to call him and tell him I've been wrong. We're miles apart."
Short also refused to budge. In fact, he almost went too far in his piqued state. Unaccustomed to his charm being resisted —  after all he won over even Ted Williams — Short told the press that he intended to ship the ingrate Howard elsewhere.
He claimed to have deals with the Cleveland Indians and California Angels lined up and ready to go. Depending on the day, Cleveland's package included slugging catcher Duke Sims. More outlandish rumors said the Indians might even part with flame-throwing lefty Sam McDowell. The Angels supposedly offered Tom Egan, Roger Repoz, Billy Cowan and other similar fodder.
One can imagine Williams taking Short aside and threatening to quit on the spot if he dared trade away his best player for such ordinary lights. In any case, no deal was ever made, even though Short had said, presaging Austin Powers, when he bought the team that "I want to swing. I'm a swinger" when it came to making deals.
After a week of threats and counter-threats between Howard and Short, the Senators' owner suddenly stopped talking about the issue. Perhaps Williams learned from his players that Hondo would eventually show up either way. Perhaps, Short, a quick study, simply figured out why no one else seemed too worked up about Howard's absence.
He decided to wait Howard out. Eventually, one called the other and they reached a deal, reported in The Washington Post to be a 1-year deal for $70,000. Shortly after agreeing to a deal, Howard caught a flight to Florida and arrived in Pompano Beach to begin the best season of his career and the best year in the history of the expansion Washington Senators.
Short, for his part, began to wonder about that off day on the schedule between an exhibition game in New Orleans and the Presidential Opener. Why leave a day open when his Senators could barnstorm their way back to D.C. for their fun and Short's profit? At some point during his deliberations, or perhaps even before spring training even began, Short contacted Tom Vandergriff, mayor of the city of Arlington, Texas where a dusty little minor league ballpark named Turnpike Stadium resided.
Vandergriff,who passed away on December 30, 2010, openly lobbied major league clubs to move their teams to his town.
http://bit.ly/fWAwzl — Vandergriff obituary
A much loved public figure in the Arlington/Dallas area, it is safe to assume few in the Washington, D.C. area shed any tears.
(Read more about Short, Vandergriff and their 1969 Spring dalliance in the 5th and final segment of this series).
Click here to read Part 1 of a Five Part Series on 1969 Spring Training
Click here to read Part 2, Ted (Finally) Gets His First Win
Click here to read Part 3, Cap Peterson Spring Training Power Display – March 15, 1969
Steve Walker is the author of the  book, "A Whole New Ballgame: The 1969 Washington Senators" available on Amazon: http://amzn.to/AzaNta or direct from the publisher, Pocol Press: http://bit.ly/y51taI