Former Senators Don Mincher passes away
Donald Ray Mincher a former Minnesota Twin and baseball lifer in every
sense of the word passed away yesterday in Huntsville, Alabama after a
lengthy illness at the age of 73. Mincher was signed by the Chicago
White Sox as an amateur free agent prior to the 1956 season and in the
process passed up a football scholarship to the University of Alabama
and started his pro career by playing for the Duluth-Superior White Sox
in the class C Northern League as he started climbing the minor league
ladder towards a big league career. Mincher who threw right-handed was a
slugging left-handed hitting first baseman who stood 6'3″, weighed about
205.
Before Don could put on a White Sox uniform in a big league game,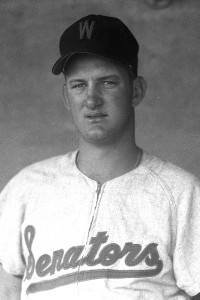 he along with catcher Earl Battey and $150,000 were sent to the
Washington Senators for 1B Roy Sievers in April of 1960. Don Mincher
made his big league debut on April 18, 1960 at Griffith Stadium in a
10-1 Senators win over the Boston Red Sox. Mincher became one of the
"original" Minnesota Twins when owner Calvin Griffith moved the
Washington Senators to Minnesota after the 1960 season. Mincher went on to play for the Twins through the 1966 season playing in 617 games and hitting 92 home runs while hitting .244. Mincher was good enough to have been a regular on many other teams but with the power hitting Twins of the 60's, Mincher could not crack the everyday starting line-up.
Although not a regular, Mincher was never-the-less a feared slugger as
his league leading 15 intentional bases on balls during the Twins
pennant winning 1965 season will attest. Don played in all seven games
of the 1965 World Series against the Los Angeles Dodgers hitting only
130 in 25 plate appearances but he did hit a home run in-game 1 off of
HOF and Dodger great Don Drysdale. In the seventh inning of a game
against the Kansas City Athletics at Metropolitan Stadium on June 9,
1966, Mincher was one of five Minnesota players to hit home runs (the
others were Rich Rollins, Tony Oliva, Harmon Killebrew, and Zoilo
Versalles).
This still stands as the major league record of homers in an
inning. Three of the home runs were hit off starter A's starter and
future Hall of Famer Catfish Hunter, the other two off of reliever Paul
Lindblad. After the 1966 season the Twins tradEd Mincher, outfielder
Jimmie Hall and pitcher Pete Cimino to the California Angels for pitcher
Dean Chance and a PTBNL that turned out to be infielder Jackie
Hernandez. Mincher ended up making the American League All-Star team in
his first season as an Angel and played in California for two years
before the Seattle Pilots drafted him in the second round of the 1968
expansion draft. Don again made the All-Star team in 1969 as a Pilot and
finished that season hitting 25 home runs and he also stole 10 bases
that season at the age of 31.
In January on 1970, the Pilots had turned into the Milwaukee Brewers and                                                                    the Brew Crew tradEd Mincher to the Oakland A's where he hit a career high                                                                  27 home runs. In 1971 Mincher was traded to the Washington Senators who                                                                     became the Texas Rangers in 1972.
The Rangers then tradEd Mincher back to the Oakland A's where Don played
the final 47 games of his big league career. Mincher appeared in the
1972 ALCS and the Oakland A's 1972 World Series earning his championship
ring.
When you look at Mincher's 13 year big league career you will find that
he hit 200 home runs (with five 20+ home runs seasons) and hit .249 and
had a .798 OBP in 4,725 plate appearances. Don Mincher is the only
player to play for both the original Washington Senators and the
expansion Washington Senators, as well as both teams that they moved to
become, the Minnesota Twins and the Texas Rangers. Additionally, he
played for a third team, the Seattle Pilots, in its first and final
season before relocating to a new city (but was traded before playing a
game for the Milwaukee Brewers).
After his playing days, Mincher returned to his hometown of Huntsville,
Alabama and managed a sporting goods store for about a decade before
becoming General Manager of the Huntsville Stars in 1984. He then led a
group that owned the club from 1994 to 2001. In 2000, he became
President of the Southern League, a position he held until retiring in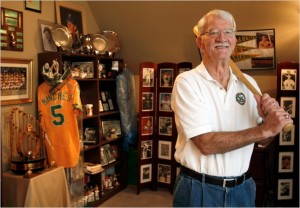 late 2011 due to health issues, at which point the league named him President-Emerius.
Mincher was elected to the Alabama Sports Hall of Fame in 2008. Though he never played for the team, the Huntsville Stars retired his number 5 in an on-field ceremony on June 6, 2008. In 2010, he was presented with the "King of Baseball" award, the highest honor bestowed by Minor League Baseball.
Mincher is survived by his wife Pat, son Mark, daughters Lori Lumpkin and Donna Hopper and six grandchildren. Funeral services are pending. We
at Twins Trivia want to extend our heart-felt condolences to Don
Mincher's family, friends and fans.
Click here to read the original story at Twins Trivia.