Selbach's Secret Weapon
Albert Karl "Kip" Selbach is one of the early stars for Washington. He is one of a few who played for the District's National and American League franchises. In his seven years of service with Washington Kip amassed 921 hits.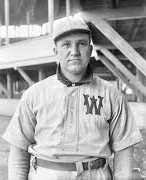 On 27 April 1903, Boston comes into town to play three games against Washington. So far in the home stand Washington is 2-2 and some fans have hopes that the team could finish up in the standings this season, maybe fourth.
Today features a good pitching matchup between Al Orth[1] for Washington and Bill Dineen[2] for Boston with nearly 4,000 fans on hand. Dineen was 21-21 for Boston in 1902 and is counted on along with Cy Young to lead Jimmy Collins and his talented team to a pennant.
During the game a Washington Times reporter[3] asked Bill Dineen why he was nervous.
"Well, I'll tell you," said Dineen. "It is this way, Al Selbach knows my weakness, and before the game fixed matters up with the king of rooters, Shortie Sager, to spring a few secrets which he happened to know from the bleachers."
"Who is this fellow Sager?" The reporter asked.
"Why, don't you know "Blood" Sager? I thought everybody here in Washington knew him. See, there he is now; the little fellow with the cap back of third base in the left field bleachers. Some people call him "Blair." I would rather have a "bull" after me than have him and his band of Indians yelling at me."
Just then Dineen went to bat, and from the way Sager yelled Dineen had not overrated him.
Kip didn't get a hit off Dineen but there was something to Sager's magic. In the eighth inning with Boston ahead 3-2, Dineen walked Shorty Robinson and Kip Selbach then gave up singles to Ed Delehanty and Scoops Carey. Gene DeMontreville caps it off with a double and Washington goes on to win the game, 6-3. Of note Duke Farrell, another player with ties to Washington fractures his leg stealing second.
Sadly the 1903 season has few highlights and is marred by the deaths of Win Mercer and Ed Delehanty. It was said that "When Selbach is fit he is a good ball player." In 1903, he was said to be "Stout," he batted just .251.
---
[1] Al Orth is 30 years old, in 1902 he was 19-18 3.97 ERA
[2] I am using the spelling in the papers and journal's of the period; it is spelled Dinneen on Baseball-Reference.com. Bill also pitched for the old Washington National League Club. In fact several players here are mentioned have ties to Washington.
[3] Washington Times
*The Flynn's have written two books about baseball in D.C.