This Date in Washington Senators History
March 23
Senators Birthdays
Samuel Edward Bowens B Mar. 23, 1939 D Mar. 28, 2003
Signed by the Baltimore Orioles before the start of the 1960 season, outfielder Sam Bowens would make his way to the major leagues in September of 1963. Playing in 15 games for the O's, Bowens would go 16 for 48 at the plate good for a .333 BA.
Bowens would make it into 139 games in 1964, his only season appearing in over 100 games, hitting .263.
Unfortunately for Bowens, hit hitting would tail off dramatically after 1964. Sold to the Washington Senators after the 1967 campaign, Bowens would spend 2 years in Washington, his last game coming in late July of 1969.
Clifford Carlton (Gavvy) Cravath B Mar. 23, 1881 D May 23, 1963
Outfielder Gavvy Cravath got his start in the majors with the Boston Red Sox (Then known as the "Americans".) in 1908. Playing in 94 games, Cravath would manage a .256 BA.
Sold to the Chicago White Sox after the season, Cravath would start the 1909 season in Chicago appearing in 19 games. Traded to the Washington Senators along with Nick Altrock and Jiggs Donahue for Bill Burns, Cravath would play in just 4 games for Washington, going 0-6 at the plate, when Washington manager Joe Cantillion, sent Cravath to the Minneapolis Millers of the American Association. (Cantillion was the owner of the Minneapolis team.)
Piling up some impressive numbers in Minneapolis, Cravath made his way back to the majors in 1912, at age 31, with the Philadelphia Phillies.
Cravath finally got a chance to play regularly and rewarded the Phillies with some impressive hitting, including a .341 BA in 147 games in 1913.
Cravath would lead the NL in runs in 1915, hits in 1913, total bases in 1913 and 1915, home runs in 1913, 1914, 1915, 1917, 1918 & 1919, RBI in 1913 and 1915, walks in 1915 and extra base hits in 1913, 1915, 1917 & 1918.
Cravath would make it into 1 World Series when the Boston Red Sox defeated the Phillies in 1915.
SABR biography on Gavvy Cravath by Bill Swank
Bruce Ernest Howard B Mar. 23, 1943 Still Living
A native of Maryland's Eastern Shore, pitcher Bruce Howard would sign with the Chicago White Sox in 1962. Quickly making his way to the majors as a 20 year old rookie in September of 1963, Howard would post a 2-1 record with the WHite Sox in 7 games. He'd post an identical 2-1 record in 1963, appearing in just 3 games while compiling a 0.81 ERA.
Howard would get a chance to pitch regularly in the majors in 1965, appearing in 30 games, posting a 9-8 record. He'd remain with the White Sox through the 1967 season. In November of that year he was traded to the homestate Baltimore Orioles.
Starting the 1968 season in Baltimore, Howard would pitch in 10 games, his record at 0-2 when he was traded to the Washington Senators for Fred Valentine in mid-June. Howard would finish the season, and his career, appearing in 13 games for the Senators, compiling a 1-4 record with a 5.36 ERA.
Howard's son David, born in 1967, would play for the Kansas City Royals and St. Louis Cardinals, primarily as a shortstop, in a career that spanned from 1991 through 1999.
James Robert Lemon B Mar. 23, 1928 D May 14, 2006
Outfielder Jim Lemon is remembered as one of those players (Along with Jim Kaat and Harmon Killebrew, among others.) who formed the nucleus of a Washington Senators team that was starting to show some promise when they were uprooted and transplanted in Minnesota after the 1960 season.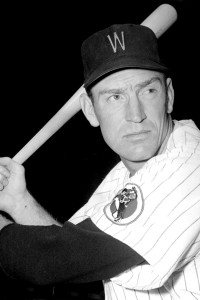 Signed by the Cleveland Indians before the start of the 1948 season, Lemon would get his first taste of the major leagues in August of 1950, appearing in 12 games for the Indians, hitting .176.
Lemon would not be back in the majors until 1953 when he'd appear in 16 games for the Indians, hitting .174.
Sold to the Washington Senators in 1954, Lemon would play in 37 games for Washington in 1954 and another 10 games in 1955 before he'd finally get a chance to play regularly in 1956. Playing in 146 games that season, Lemon would hit a respectable .271 with 146 hits including 21 doubles, a league-leading 11 triples and 27 home runs. He'd score 77 runs and would be credited with 96 RBI.
Lemon would manage a .284 BA in 1957 and would stroke 33 home runs in 1959. In 1960 he'd be selected to the American League All Star Team.
Moving with the franchise to Minnesote, Lemon's last full season would be 1961 when he'd hit .258. He was limited to just 12 games in 1962.
1963 would prove to be Lemon's last year in the majors-he'd start the season with the Twins but would play in just 7 games when he was purchased by the Philadelphia Phillies in early May. Lemon would spend 31 games in a Phillies uniform when he was on the move again, this time purchased by the Chicago White Sox where he'd play in 36 games, his last major league appearance coming in late September.
A fan favorite in Washington, Lemon would be back in 1968 to manage the expansion Senators after Gil Hodges joined the New York Mets. Unfortunately, Lemon's only year as a major league manager was anything but successful-the Senators would post a 65-96 record, finishing in last place in the 10 team league.
Daniel Edward Moeller B Mar. 23, 1885 D Apr. 14, 1951
22 year old outfielder Danny Moeller made his big league debut with the Pittsburgh Pirates in late September of 1907. Playing in 11 games, Moeller would hit .286 in 42 AB. Moeller would play in 36 games with the Pirates in 1908, his BA tailing off to .193.
Out of the majors in 1909, 1910 and 1911, Moeller would return to the big leagues with the Washington Senators in 1912. Moeller would play regularly for the next 4 seasons in Washington, hitting .276 in 1912.
Moeller would split the 1916 season between Washington and Cleveland after he was traded, along with Joe Boehling, for Joe Leoard and Elmer Smith in late August. Moeller would finsih his season, and his career, with the Indians in late September.