This Date in Washington Senators History – Jeff Burroughs Birthday
March 7
Senators Birthdays
Jeffrey Alan Burroughs B Mar. 7, 1951 Still Living
A first round draft pick of the Washington Senators in June of 1969, outfielder Jeff Burroughs would get his first taste of the major leagues in July of 1970. Playing 6 games for the Senators, Burroughs would go 2 for 12 with 1 RBI. Returning with the Senators in 1971, Burroughs would appear in 59 games, hitting .232 with 42 hits including 9 doubles, 5 home runs and 25 RBI's.
Moving with the franchise to Texas in 1972, Burroughs would play in just 22 games as a Ranger in their inaugural season, hitting .185. Burroughs would finally get the chance to play every day in 1973. He'd respond with a .279 BA and 30 home runs among his 147 hits.
In 1974 Burroughs would raise his average to .301 with 167 hits and 118 RBI's. Burroughs would be voted Most Valuable Player and would be selected to the 1974 American League All Star Team where he would be the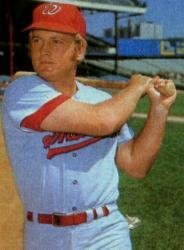 starting left fielder. Burroughs would remain in Texas through the 1976 season. Traded to the Atlanta Braves in December for 5 players and $250,000, Burroughs would spend the next 4 seasons in Atlanta, being selected to the National League All Star Team in 1978.
Burroughs would be traded to the Seattle Mariners during spring training in 1981 and he'd spend 1 season in Seattle, hitting .254 in 89 games. Granted free agency after the 1981 season, Burroughs would sign on with the Oakland Athletics where he'd play from 1982 through 1984.
Purchased by the Toronto Blue Jays after the 1984 season, Burroughs' final season would be 1985 when he'd hit .257 in 86 games. Burroughs would lead the American League in RBI in 1974 and strikeouts in 1975. He'd lead the National League in walks in 1978.
Burroughs son Jeff would play in the major leagues from 2002 through 2006 with the San Diego Padres and the Tampa Bay Devil Rays.
Howard Alexander McFarland B Mar. 7, 1910 D Apr. 7, 1993
Senators Short Timer Howie McFarland would first appear in the major leagues as a 35 year old rookie in mid-July of 1945. McFarland would spend a month on the Senators roster, appearing in 6 games, playing the outfield and going 1 for 11 at bat, his last major league appearance coming in mid-August.