Flashback: Harper's Shot Recalls Another D.C Phenom's First Homer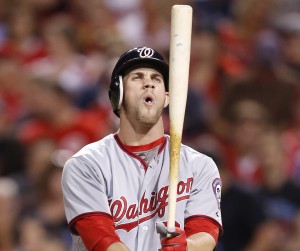 Bryce Harper ensured his place in Washington baseball history even before he became the youngest major leaguer since 1998 to hit a home run.
At 19 years, 211 days old, Harper isn't even old enough to buy a drink to celebrate his more than 400-foot blast off San Diego Padres starter Tim Stauffer, which came in his 15th major league game and 54th at-bat, according to The Associated Press and SATS LLC. The homer not only added to his lore and endeared him to Nationals fans, it evoked memories of another vaunted prospect's first home run, with not much more age and even less major league experience under his belt, almost 41 years earlier.
Like Harper, Jeff Burroughs was the first overall pick in the amateur draft, and like Harper, he was an expensive project. When the Washington Senators selected him in 1969, there were suggestions that Burroughs might have been the first million-dollar "bonus baby" had the Senators not secured his exclusive rights through the recently adopted draft system. At least that's what former Atlanta Braves general manager Paul Richards told the New York Times' Red Smith in this 1975 interview.
And while Burroughs never saw even proportionally the same kind of money that Harper is getting paid by the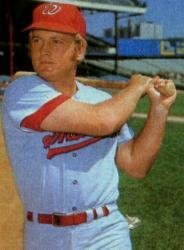 Nats ($3.65 million over five seasons), he was stuck with the label of "can't miss prospect." Senators manager Ted Williams, always looking for a prodigy who might succeed him as a .400 hitter, thought Burroughs just might be the kid. And the Senators, struggling in both the standings and at the gate in 1970, rushed him to the major leagues, at roughly the same age as Harper.
But at age 19, the "can't miss" kid wasn't ready. Not by a longshot. He collected just two hits, both singles, in his six-game "cup of coffee" from July 20 to July 30, his average never getting above .250. But exactly one year later, with the team starting to gain some momentum after a 26-47 start, Williams thought it was time. The Senators had won 15 of their last 22 games and three straight when Burroughs started in left field on July 20, and he responded with a hit, a walk and a run as the team extended its streak to four games with a 5-1 win over Milwaukee.
Three days later, the team hit the road for games in Chicago, Minnesota, Milwaukee and Detroit. Burroughs went 1-for 4 against the White Sox in a 6-5 loss in the first game of a doubleheader, but struggled afterward, collecting only one more hit in nine at-bats, playing only occasionally, as the team went 3-6.
The Senators slumped into Detroit on Aug. 2, having lost the last two of a four-game set in Milwaukee, and Burroughs had gone hitless in his only start against the Brewers and walked in a pinch-hitting appearance. But that night at cozy Tigers Stadium, Burroughs would have the biggest night of his big league career to that date and show the potential the team saw when it had taken him in the first round almost two years before.
The Tigers jumped all over Washington starter Pete Broberg. When Broberg wasn't walking batters, the Tigers were lacing hits and taking taking extra bases on poor fielding plays. Broberg departed after giving up a bases-loaded, two-run single to Bill Freehan, having retired just one batter and given up four earned runs. The Tigers led 5-0 in the first after reliever Horacio Pina gave up an RBI single for ex-Senator Ed Brinkman.
The Senators stuck around though, and even after Willie Horton hit a two-run homer, trailed 7-2 going into the seventh against a tiring Tigers starter Joe Coleman. He yielded back-to-back, one-out walks to Dave Nelson and Don Mincher, and the runners advanced to second and third on Frank Howard's groundout. Larry Bittner made it 7-4 by singling in Nelson and Mincher, and after Coleman Walked Dick Billings, Detroit manager Billy Martin had seen enough. He pulled Coleman and called in left-hander Ron Perranoski, who needed just one out to get out of the inning with the lead intact.
Williams played the matchup, pinch hitting the right-hand hitting Burroughs for left-hander Bernie Allen. Burroughs was just 20 years and 128 days old and was playing in his 14th major league game when he stepped to the plate for his 28th career at-bat, but it would be his most memorable to that point. He took Perranoski the other way, stroking a ball into the right field stands for his first career homer, a three-run shot that tied the game at 7.
Relievers Casey Cox and Joe Grzenda would let the Tigers off the hook, with the help of a two-run passed ball by Billings, while the Senators advanced only two men as far as second base the rest of the way. The Tigers won 11-7, but Burroughs had earned his reputation. As the team muddled through the end of its final season in the nation's capital, Burroughs would become a regular outfielder, playing both left and right, finishing at .232 with five homers and 25 RBIs in 59 games.
Once the team moved to Texas, he was destined for even bigger things, winning the American League MVP award just three years later in 1974, when he hit .301 with 25 homers and led the league with 118 RBIs. In 16 major league seasons, he would amass 240 home runs. including 30 in 1973 with Texas and 41 in 1977 with Atlanta. He would twice drive in more than 100 runs in his 882-RBI career and make the All-Star team in each league.
The expectations for Harper are at least that big, if not bigger. Whether he will live up to them remains to be seen, but he's already achieved more success, at a younger age, and with only a bit more big league experience than Jeff Burroughs, the Senators' final "can't miss prospect" before moving to Texas.