Nats go for the sweep against Phillies
This evening the division leading Washington Nationals will go for their second consecutive sweep against the Philadelphia Phillies at Citizens Park.  Last season the over achieving Nats went to Citizens Park to play the Phillies four games in three days.  From September 20 to September 22 the Nats outscored the division leading Phillies 20 to 9 and left the city of brotherly love with a four game sweep.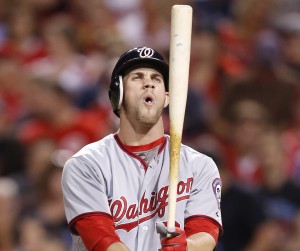 The 2012 Nationals have not missed a beat in their first visit to Citizens Park this season as they have taken the first two games of the three game series.  The Nats will start Edwin Jackson (1-1 3.31era) against the Phillies starter Cole "Old School" Hamels (6-1 2.48) this evening at 7:05.
This evening's game between the division rivals will be most interesting as most fans want to see if Cole Hamels, Mr. Old School is going to try to educate the Nats 19 year-old star Bryce "Bam-Bam" Harper . Or will Bam-Bam Harper turn the tables on the teacher again and actually teach the teacher in how to act like a professional.