On May 28, 1941 the New York Yankees and the Washington Senators played in the first night game under the lights at Griffith Stadium. The first night game at Griffith Stadium was a big dea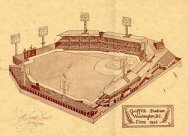 l. The Washington Senators invited Walter "Big Train" Johnson to throw out the ceremonial first pitch. It was actually the Big Train's first pitch that triggered the lights to turn on.
The Washington Senators (14-25) played inspired ball as they held a 3-1 lead over the New York Yankees (21-18) going into the eighth inning. The top of the eighth inning was the downfall for Senators' pitcher Sid Hudson, who gave up a pinch hit grand slam to *George Selkirk. By the time the top half of the eighth inning was over the Yanks held a 6-3 lead. The Yankees held off the pesky Senators to win the game 6-5.
The Washington Senators will get their redemption over the New York Yankees on the same day five years later. On the evening of May 28, 1946 the Washington Senators (20-14) beat the New Yankees (23-16) in a 2-1 nail biter. This game was the first game to be played under the lights at Yankee Stadium.
* was the General Manager of the second Washington Senators franchise from 1962 to 1968.