Do the Nats have the right uniforms for a championship?
Wearing the right uniform can make all of the difference.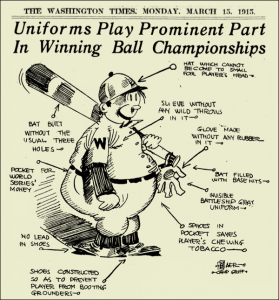 Way back in 1915 the Washington Times posted a cartoon that claimed uniforms play a prominent part in winning championships.
The 1915 Senators uniforms were not up to snuff as the Washington Senators ended the season 85-68 and were in 4th place 17 games behind the AL champs Boston Red Sox.
Only time will tell if the 2012 Nats uni's have all the right stuff for a world series championship.