My Friend EDDIE YOST
One Sunday morning in 1964, the Washington Senators began arriving in the visitors clubhouse at Yankee Stadium. Coach Eddie Yost signaled for me to come to his locker.
He had spent the last two nights at home with his mother in South Ozone Park, Queens.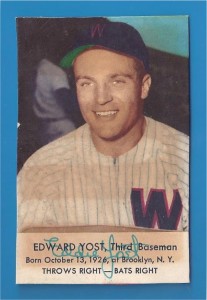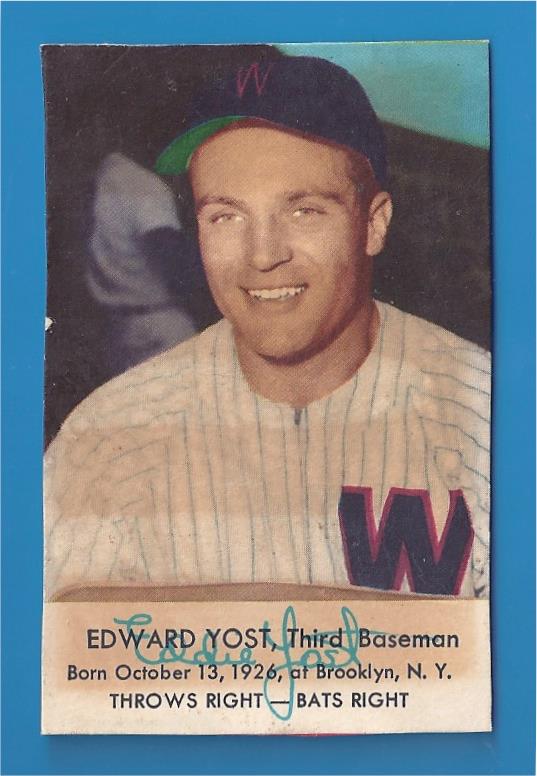 "I asked her if I could poke around in the attic," Yost told me. "Look what I found."
Eddie held a brown paper bag in his hands, gently dipping into it and smiling at me. "I found them," he said. "what's left of my baseball cards. Some of them aren't in all that good shape,"
A Babe Ruth card was slightly faded and had soft corners. Two Lou Gehrig cards looked as if they just came out of a 1934 Goudey Gum pack.
"Eddie, these are valuable – and they're going to more and more valuable."
"They are for you," he said. "I know how much you appreciate things like this."
Eddie died Tuesday, three days after his 86th birthday. I'm certain his family and friends will mourn yet celebrate Eddie Yost's life at his Funeral Mass.
Sunday Mass was a sacred hour for my friend Eddie Yost.
While on the road with the Senators, Eddie and I knew where and when there were Masses.
We went early, of course. After Mass, we made sure we had time for our favorite Sunday breakfast – Poached egg and corned beef hash.
And, then on to the ballpark.
There will be many fine stories written this week about the playing career of Eddie Yost, "The Walking Man." The six seasons he led the American League in walks – 151 one season. "That feller is always on base," Casey Stengel said. I know the statistics. I know how many walks he had.
Today, I treasure the walks we took to Mass and to breakfast each Sunday. I'm not sure if there will be corned beef hash in heaven. What I do know is that EDWARD YOST will certainly be welcome at God's Breakfast Table.
Eddie has rounded the bases and is Home.