Our most popular stories in 2012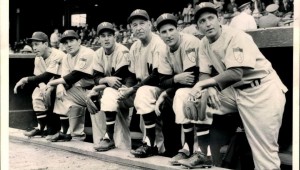 #40 – Looking Back on Jackie Robinson Day – Washington Senators were Behind the Times by Mark Hornbaker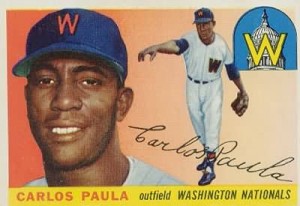 The Washington Senators failure to change with the time when it came to signing black ball players probably was one of the reasons the Senators stayed in the bottom tier of the American League.
On September 6, 1954, Cuban born Carlos Paula played in his first game with the Washington Senators, making Paula the first black player in Washington Senators history.  The Senators signed their first black player seven years after Larry Doby made his American League debut, and Jackie Robinson made his National League debut.  Continue reading
#39 – "Bam-Bam" Makes the Cut: Harper Heading to All-Star Game by Marty Niland
Keeping tabs on Bryce Harper's All-Star bid this season has been just like watching him play. Even when he struggles, the guy known to teammates as "Bam-Bam" keeps trying, keeps pushing and remains aggressive, diving after balls, stealing bases and sliding in head first. In the end, his tenacity and aggressiveness paid off, and he was named Saturday as as an injury replacement for Giancarlo Stanton, making him the youngest player ever to represent Washington in the Midsummer Classic. Continue reading
#38 – Bosman's Unexpected Gem a Glimpse of Good Things to Come by Steve Walker
On a Friday night in Washington, D.C., May 2, 1969, about 14,000 fans filed into RFK Stadium to watch the surging Washington Senators play the slumping Cleveland Indians. Senators' fans basked in the glow of Ted Williams' arrival as manager and the club's seven wins in its last 8 games, blasting above the .500 mark at 13-11.
Many, no doubt, sighed in disappointment when they learned that Washington's mop-up man, Dick Bosman, got the starting nod that night from Teddy Ballgame. After a dreadful 2-9 campaign in 1968, Bosman barely made the 1969 squad out of spring training. He was Williams' last option on his 10-man pitching staff. Until his start this on this cool Friday evening, he had appeared in only six games, two as a spot-starter. Continue reading
#37 – The days before the Nats signed Stephen Strasburg by Mark Hornbaker
With the signing deadline (August 17, 2009) approaching here is what they were saying about the Nationals chances of signing Stephen Strasburg. Keep in mind one year earlier the Nationals failed to sign the team's 2008 number one draft choice Aaron Crow. The pressure was on the Nats to sign the young phenom from San Diego State. Continue reading
#36 – Take a step back in time with these videos by Mark Hornbaker
In one of his last recorded interviews, Washington Senator great Mickey Vernon talks about his life and times in Major Leagues Baseball. With an active playing career that spanned from 1939-1960, Mickey established himself as one of the true greats of the game.  Continue reading
#35 – Chad Cordero Memories by Steve Walker
Few Washington Nationals fans will forget the wonders of June 2005 when the infant Nationals, in their inaugural season since baseball inexplicably allowed the national pastime to depart the nation's capital, rocketed to first place in the National League East with a 47-31 record. The Nationals completed their dream month with 20 wins in 26 games. Continue reading
#34 – Camilo Pascual elected to Twins Hall of Fame by John Swol
Pascual, one of the "Twins 50 Greatest Players" made his major league debut on April 15, 1954 as a Washington Senator with 3 innings of scoreless relief at Fenway Park in a 6-1 loss to the Boston Red Sox. Pascual went on to pitch in 529 big league games over 18 seasons and posted a 174-170 won/lost record. Continue reading
#33 – 1969 in Washington, D.C. – A Special, Memorable Opening Day by Steve Walker
Forty-three years ago today, the baseball season began anew in Washington, as the Senators hosted the New York Yankees.
A sports backwater since the 1940′s, when Slingin' Sammy Baugh led the Redskins to championships and the 1945 Senators came up a hair short in a tight pennant race, the nation's capital claimed the spotlight on one day only — baseball's Opening Day.
In Washington, these games held the honorable title of "Presidential Opener" because it was a given that the President of the United States would be on hand to throw not one, but three ceremonial first pitches. By 1969, the tradition had continued for nearly 60 years. Continue reading
#32 – American League baseball players drawn by Vic Johnson – Mickey Mantle by Jim Vankoski
This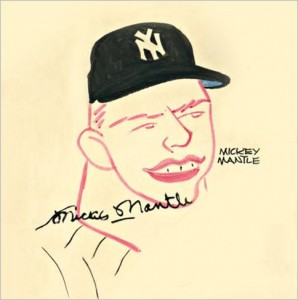 Mickey Mantle caricature is just one of a series of 19 caricatures of American League baseball players drawn by Vic Johnson during 1957.  It, along with the other 18, is taken from a composite collection of those illustrations and the personal signatures of virtually all of the players, managers, and coaches active in the American League during that year, done on a baseball-quality horsehide measuring 45 by 24 inches and collected by Mickey Vernon during the '57 playing season. Continue reading
#31 – SHORT STILL STINKS by Mark Hornbaker
In front of 14,460 fans the Washington Senators outscored the New York Yankees 7-5 and lose the final game the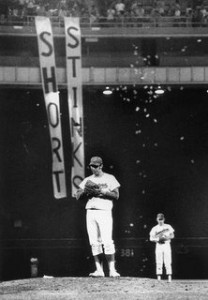 team will play at RFK stadium. The Yankees win this game by forfeit as Senators' fans show Robert Short how they really feel about his decision to move the team to Texas. The game was called in the top of the ninth inning as fans ran onto the field and grabbed whatever they could get their hands on.
I was not at this game but I do remember it very clearly as it was the worst day in D.C. baseball history for many Senators fans. If you would like to read more about this sad day in Washington D.C baseball history, I recommend that you read the article that Washington Post published the next day titled Rowdy Fans Hand Senators Final Loss . Continue reading