Our most popular stories in 2012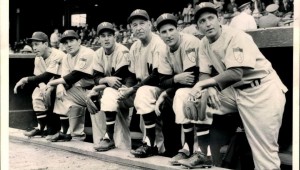 #30 – The Legacy of Griffith Stadium by George Case III
I would like to discuss the "Legacy of Griffith Stadium" and some of those wonderful memories of a time in the not so distant past – unfortunately memories are just about all that is left for those who remember major league baseball in Washington DC before the current Washington Nationals. This may serve as a history lesson for Washington baseball fans – long suffering and yet a VERY RICH major league baseball heritage! Continue reading
#29 – The Dummy Hoy Story by Karen and Kevin Flynn
Hoy was born in Houcktown, Ohio in 1862. He played his first professional season with Oshkosh in 1886 in the Northwestern League. He returned with Oshkosh and in 1887 batted a sparkling .367 in 115 games. A left handed batter who threw with his right hand, Hoy was listed at 5-06 and 160 pounds.[1]  His 1887 season was enough to draw the interest of the Washington Senators, the perennial Tail Enders of the National League.[2] Continue reading
#28 – 1969 Spring Training -The Entire Story by Steve Walker
1969′s spring training may have been the most unique in Washington baseball history. Change abounded. The club sported a new owner, Robert E. Short, a celebrity manager, Ted Williams, and even new uniforms (the elegant navy blue pinstripes replaced by gleaming white home uniforms and gray road threads,  with, ominously "Senators", not "Washington", written in script across the front). Continue reading
#27 – Texas Hold 'Em Style Baseball Card Flipping Tournament by Jim Vankoski
The Mickey Vernon Sports History Museum at One Beaver Valle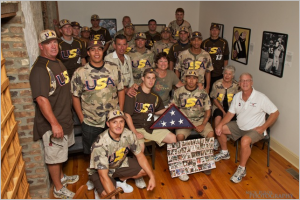 y Road in Chadds Ford, PA 19317, is hosting a high stakes baseball card flipping tournament to benefit the United States Military All Star Baseball Team.
This Texas Hold 'Em style high stakes tournament will be held on Saturday, March 24 starting at 1 PM.  Practice sessions will be held at the museum every Wednesday, Thursday and Friday from 11 am to 1 pm from February 1 through March 23.  The cards for the tournament will be provided by local firms Choice Marketing of Aston and T.C. Ott Sports of Booths Corner Farmers Market. Continue reading
#26 – My Almost Unbelievable Story by Jack L. Hayes
As the 2012 American League's baseball season swings into action, just the thought of all the excitement brings back so many of my fondest memories of Griffith Stadium. My almost unbelievable baseball story should commence by saying that as a kid, I was a baseball nut. I loved watching the Washington Senators play and every chance that I got to see them play at home, I would hop on the streetcar; make a transfer at Seventh and Pennsylvania Avenue, NW, and head uptown from our small apartment in Southeast to Griffith Stadium.
Gayle Devers once said, "Remember all things are possible for those who believe." As a kid, I believed and was able to turn my dream into the greatest job in the world! You see, I was the visiting teams' batboy for the Washington Senators during the 1953 and 1954 seasons. Continue reading
#25 – This Day in D.C. Baseball History – Mantle's Tape Measure Home Run by Mark Hornbaker
H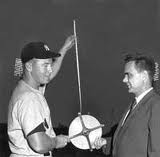 e did not play for the Senators but he sure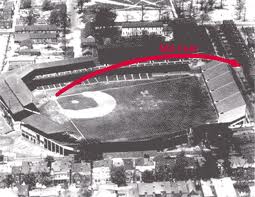 made a lot of history when he played against the Senators in Washington. The person I am referring to is Mickey Mantle.
Mickey Mantle must have loved spring time in the Nation's Capital as he hit some of the longest home runs ever recorded. It was clear Griffith Stadium and the Washington Senators were no match for Mantle on the date of April 17th.
On that date in 1953, Mickey belted a 565-foot home run out of Griffith Stadium off of Senators' pitcher Chuck Stobbs. The Yankees PR director Red Patterson coins the term "tape measure home run" during the game. Continue reading
#24 – The Day the Aces got Trumped by Karen and Kevin Flynn
One of the pleasures is finding odd or unique articles. I found this in the District News and Facts, dated. 1 October 1895.[1]
"The Day the Aces got Trumped," by Parson Nicholson[2]
I do survey work for the Great Northern, one of the few to avoid the troubles.[3] This takes me too many small towns along the rail line. I arrived in Shinbone to attend a party to be held for their best known citizen Ambassador Ransom Stoddard.[4] The talk of the town was not about the former Senator but wild goings on down the tracks a spell at Singletree this past July.
It is hard to separate fact from fancy but out here in the west they say when the legend becomes fact, print the legend.[5] I say this in relating the tale to me by Moonlight Graham, a well known doctor, who declares himself to be a witness to what is now being called the, "Day the Aces got Trumped." Continue reading
#23 – Opening Day in Washington "Throwing Out the First Ball"  by George Case III
I'd like to discuss a Washington baseball tradition that, unfortunately, in my opinion, has been lost "in the sands of time."
The ceremonial first pitch was a long-standing tradition at Griffith Stadium and later at DC (RFK) Stadium in Washington DC. This tradition began in 1910 with President William Howard Taft "throwing out the first ball" to open the major league baseball season.
From that point on, every President of the United States – Taft, Woodrow Wilson, Warren Harding, Calvin Coolidge, Herbert Hoover, Franklin D. Roosevelt (except during the "war years" 1942-45), Harry Truman, Dwight Eisenhower (except in 1959), John F. Kennedy (last opening day at Griffith Stadium – first opening day at DC Stadium), Lyndon Johnson, and Richard Nixon in 1969, participated in this major league baseball tradition in our nation's capital. Continue reading
#22 – This Date in Washington Senators History / January 18 by Art Audley
1969 The last-place Washington Senators name former Boston Red Sox star Ted Williams as their new manager. Williams signs a five-year contract worth a reported salary of $75,000 per season. In Williams' inaugural season as a manager, the Senators will finish with a record of 86-76, the best mark (and their only over .500 season) in the franchise's history during their 11 year stay in Washington.
Senators Birthdays
Curtis Charles Flood B Jan. 18, 1938 D Jan. 20, 1997
3 time All Star Curt Flood was originally signed by the Cincinnati Reds in 1956. He'd make his major league debut later that year as an 18 year old rookie, appearing in 5 games. He'd play in 3 more games with the Reds in 1957. Continue reading
#21 – Michael Morse is Very Close to Joining Prestigious List by Mark Hornbaker
Michael Morse's single in the top of the 3rd inning last night at Minute Maid Park in Houston extended his current hit streak to 17 games. During the 17 game hit streak Morse has gone 23 for 73 for a .315 batting average.
If Morse is able to extend his current streak to 20 games he will be the 13th Washington player since 1901 and only the 4th player since the end of World War II "1945″ to have a hitting streak of 20 or more games. Below is the list of Washington ball players that had a hitting streak of 20 or more games. Continue reading
Our most popular stories in 2012 – #40 to #31