I hope Washington is chosen to host the 2019 All-Star game
Earlier this week it was announced that the city of Cincinnati will be the host of the 2015 Major League Baseball All-Star Game. Like many Washington baseball fans I can't wait for the nation's capital to be chosen to host an All-Star game. With that said I actually hope D.C. is not chosen until 2019.
You may be thinking, what about the 2017 All-Star game? The 2017 All-Star game would be nice but it does not have the historic prestige of the 2019 game. The reason the 2019 All-Star game is special is it will be the 150th anniversary of professional baseball in the United States of America.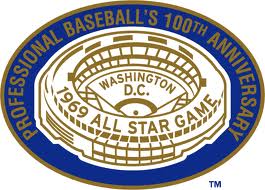 If I was a Cincinnati Reds fan I would have wanted the 2019 All-Star game because the Cincinnati Red Stockings became the first fully professional team in 1869. One hundred years later Major League Baseball officially recognized the centennial of professional baseball in 1969.
Some Washington baseball fans may remember the 1969 All-Star game was played in R.F. K. Stadium. Over 45,000 fans attended to 40th mid season classic game. The National League beat the American League 9-3. If Washington is chosen to host the 90th mid season classic in 2019 it will mark the fifth time the city has hosted the All-Star game.
FYI: I hope you enjoy the film clip of FDR throwing out the first pitch before the 1937 All-Star game at Griffith Stadium.