LaRoche coming back; Morse on block
Nationals General Manger Mike Rizzo has the patience to wait for what he wants, and now that patience is being rewarded with the re-signing of one of baseball's premier first basemen and a potential trade windfall.
Rizzo's offer to Adam LaRoche hasn't changed substantially since LaRoche became a free agent following a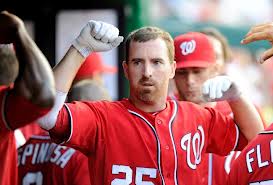 season in which he hit 271/.343/.510 with 33 home runs and 100 RBIs, winning the Gold Glove and the Silver Slugger awards for his position. He was offering two years, while LaRoche demanded three. And while some clubs may have been willing to offer the years and the money he was seeking, no one was willing to give up a high draft pick and bonus pool money as required under baseball's free agency rules.
Meanwhile, Rizzo had time and a loaded roster on his side. With Michael Morse and Tyler Moore under contract, the Nats had all the leverage they needed to wait him out. Finally, after a few more rounds of meetings, the Nats called for an answer and they got it. As The Washington Post's Adam Kilgore and others reported, LaRoche and the Nats agreed Tuesday on a two-year deal with a mutual option for a third year that, according to the Washington Times' Amanda Comack, pays LaRoche $24 million, including $10 million this season and a $2 million buyout of neither side picks up the option.
The signing returns the National League's best defensive first baseman to the NL East champs, in the heart of a just-about perfectly balanced potential starting lineup:
CF — Denard Span (L)RF — Jayson Werth (R)
LF — Bryce Harper (L)
3B — Ryan Zimmerman (R)
1B — Adam LaRoche (L)
SS — Ian Desmond (R)
2B — Danny Espinosa (S)
C — Kurt Suzuki (R)
It also allows Rizzo to shore up the team's bullpen and farm system by trading Morse, who becomes a $6.7 million spare part. But as is his trademark, Rizzo isn't rushing into anything. With Morse signed trough the upcoming season and Moore eligible to be optioned to the minor leagues, the Nats have an abundance of talent and nothing but time to look for the best deal.
For Morse's part, he did not seem too happy about developments that will probably lead to his departure from a team where he has blossomed into a star. Shortly after the deal was announced, he tweeted a teardrop emoticon, followed shortly afterward by a second tweet reading, "Hey everyone, going silent for awhile."
Rizzo told MASN Sports' Dan Kolko and other reporters on a conference call that he sees Morse as an every-day middle-of-the-order hitter, and will seek compensation from that standpoint. He also said there is no timetable for getting a deal done, and that Morse's value increases daily.
Rizzo said he has already fielded calls from several teams, and various reports in the Twitterverse have the Yankees, Rays, Orioles and Mariners among as many as 11 potential suitors. Rizzo said the Nationals are seeking "controllable major league help or prospects to help the minor league system."
But Rizzo made clear that he still holds the cards.
"We're not going to make a bad deal just to move the player out of town. We don't have to do it financially and we're going to have to do what's best for the organization," he said.