Our Top Ten popular stories in 2012
#10 – Do the Nats have the right uniforms for a championship? by Mark Hornbaker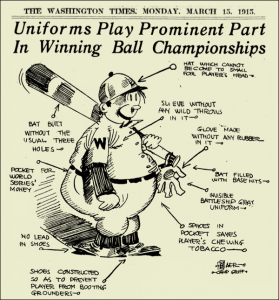 Wearing the right uniform can make all of the difference. Way back in 1915 the Washington Times posted a cartoon that claimed uniforms play a prominent part in winning championships.
The 1915 Senators uniforms were not up to snuff as the Washington Senators ended the season 85-68 and were in 4th place 17 games behind the AL champs Boston Red Sox. Continue reading
#9 – The Good Guys Wore White by Jim Hartley
During the first 66 years of the 20th Century, most major league baseball teams wore sparkling white flannel uniforms for their home games, and gray uniforms on the road. There were exceptions. For instance, the 1906-09 Washington Nationals wore dark blue uniform pants and jers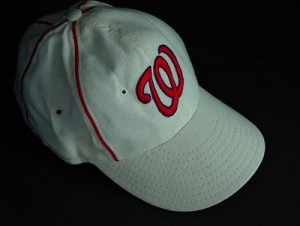 ey tops on the road, but aside from other rare occasions, teams followed the "traditional" white-gray color scheme.
On December 2, 1966, Kansas City Athletics' owner Charles O. Finley shook the very foundations of major league baseball by introducing new uniform colors. Finley had the "audacity" to buck tradition by introducing new uniforms that were a combination of "Kelly Green and Fort Knox Gold," and went a step further by adding dazzling white shoes that were made from "the hides of albino kangaroos." Finley felt that the traditional black baseball shoes were "too formal." The Athletics' owner went on to say that (in his far-from-humble opinion) the shiny black shoes worn by major league umpires made the arbiters look like "undertakers." Continue reading
#8 – Hannan Isn't Helping Retirees As Much As He Could Be by Doug Gladstone
So we were out at Doubleday Field, in Cooperstown, NY, watching the 4th Annual Baseball Classic that the Hall of Fame puts on every Father's Day weekend when one of my buddies pointed out that Jim Hannan's name was listed in the souvenir scorecard.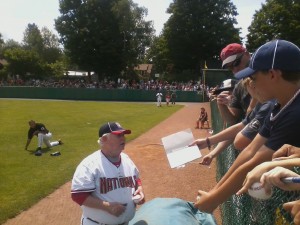 "Hannan?," I asked, incredulously. "James John Hannan, of Joisey City, New Jersey?"
I really don't pronounce Jersey as Joisey but, well, having just come from the museum, where I saw a vintage Bugs Bunny cartoon — you know the one, where that wascaly rabbit takes on the Gashouse Gorillas singlehandedly — I couldn't get the hare's diction out of my mind.
"The one and the same," my friend said. Continue reading
#7 – Nationals trade for CF Denard Span; Where will the dominoes fall? by Marty Niland
The Nationals' search for a leadoff hitter is seemingly over, now that the team has traded for speedy center fielder Denard Span. But with a surplus of outfielders, what future moves does this trade portend?
After running through an assortment of leadoff hitters last year that included Ian Desmond, Steve Lombardozzi and finally Jayson Werth — all hitters who are either better suited for other spots in the order (or coming off the bench in Lombardozzi's case), general manager Mike Rizzo decided to make a move in the offseason to find a permanent solution. After the top free-agent prospect at the position, B.J. Upton, signed with Atlanta, Rizzo pulled the trigger on a deal with the Minnesota Twins that sent the  Nats' top pitching prospect, Alex Meyer,to the Twins for Span in a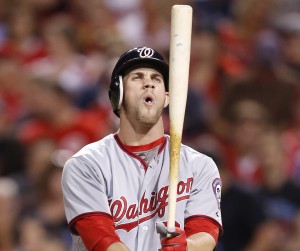 The Nats' trade for Denard Span means 2012 Rookie of the Year Bryce Harper will move to left field. But what will it mean for Michael Morse, Adam LaRoche and others?
1-for-1 deal.
The Nats gave up a talented but still developing 2011 first-round draft pick who went 10-6 with a 2.86 ERA and a 1.10 WHIP in 25 starts, while moving up from Class A Hagerstown to Class A Potomac this past season. What they got was an established leadoff hitter who, after missing most of 2011 with a concussion, came back to form for the AL-worst Twins this year, hitting .283/.342/.395/ with 17 stolen bases. He also has a reputation as a fine defensive outfielder, making him a seemingly perfect fit in Washington's outfield.
Although they had to give up one of baseball's top pitching prospects, the financial price for Span seems to be right. The Associated Press reports that the five-year veteran is heading into the fourth year of a $16.5 million, five-year contract, with a $9 million club. Continue reading
#6 – Zimmerman's Injury Worse Than Expected as Road Trip Begins by Marty Niland
The Nationals are looking at the possibility of another possibility of another extended stretch without third baseman Ryan Zimmerman as they open a six-game West Coast Road trip that will offer the toughest test of the season thus far.
Zimmerman was expecting to return Tuesday night after missing Saturday's game with right shoulder inflammation, but manager Davey Johnson tells The Washington Post's Adam Kilgore and other reporters that Zimmerman was sent for an MRI after experiencing more pain during batting practice. A follow-up X-ray revealed a sprain or strain in the AC joint. Johnson says the initial MRI results were "not real favorable" and that the team will rest him for at least another day before deciding whether to place him on the disabled list.
Johnson plans to use Mark DeRosa, Chad Tracy and Steve Lombardozzi at third base in Zimmerman's absence. Call-up possibilities if Zimmerman does go on the DL include Brett Carroll, Jason Michaels, Mark Teahen and Tyler Moore. Continue reading
#5 – American League players drawn by Vic Johnson – Nellie Fox by Jim Vankoski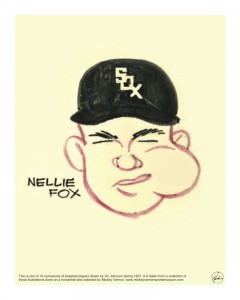 From the Mickey Vernon Museum, American League Baseball players drawn by Vic Johnson. This caricature of Nellie Fox is just one of a series of 19 caricatures of American League baseball players drawn by Vic Johnson during 1957.
This caricature of Nellie Fox and the the other 18, is taken from a composite collection of those illustrations and the personal signatures of virtually all of the players, managers, and coaches active in the American League during that year, done on a baseball-quality horsehide measuring 45 by 24 inches and collected by Mickey Vernon during the '57 playing season. Continue reading
#4 – Jim Kaat's letter to Strasburg by Mark Hornbaker
As I received a lot of hits on this story I thought I would re-post the story.
Long time Washington baseball fans will remember the name Jim Kaat. Jim Kaat was signed by the Washington Senators as an amateur free agent in 1957. The 20 year-old Kaat made his debut on August 2, 1959. With Washington Jim Kaat would go 1-7 in '59 and '60.
At the end of the 1960 season the Senators and Jim Kaat moved to Minnesota and became the Minnesota Twins. Jim Kaat will play 25 seasons in the major league and will win 283 and lose 237 games during his career. Continue reading
#3 – They were the Glory of Their Times by Karen and Kevin Flynn
They were the Glory of Their Times[1]

Saturday, 16 June while the Yankees battled the Nationals, Mark Hornbaker, Martin Niland, Karen and I from DC Baseball History at the request of Bill Blewett, One-Eyed Horse Productions,[2] to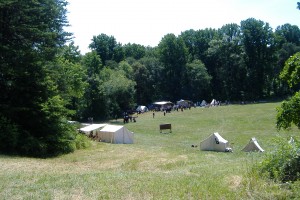 ok a step back in time to watch the filming of their new motion picture, "Day of the Gun." Walking down a woody knoll the foliage suddenly parts. Below us is a cow pasture with a medicine wagon, tents and town folk dressed up for a big game between a barnstorming professional nine and the local team. The baseball player's are wearing uniforms not seen in well over 100 years.
We are in Singletree; a rail stop located in Montana, the date is 1895. The town is celebrating its 25th anniversary and the highlight is the match played in a dale below the tow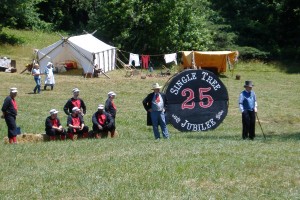 n, between the visiting Excelsior Aces, barnstorming their way west, and the Singletree Nine. The visiting players are dressed in black with an "A" on a red breast shield with red socks. The home nine is a mix of uniforms, one wearing union army pants, authentic to the period when dress for many local teams tended to be whatever was available.
In recognition of the town's 25th Anniversary the two nines are playing according to 1870 rules.[3] A spectator to the game, the word fan was not in use, would have understood the basics of the game but would have been surprised at the differences. The pitcher throws underhand and stands in a box. Another surprise is when the ball is hit to an outfielder. The outfielder comes in on an easy fly ball then suddenly stops and catches the ball on a bounce; the arbitrator[4] calls the striker[5] out.[6] Continue reading
#2 – Former Senator pitcher John Francis (Jack) Kralick passed away by John Swol
One of the original Minnesota Twins, pitcher John Francis (Jack)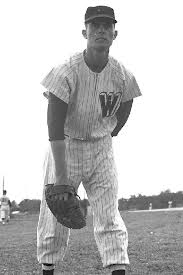 Kralick who was born on June 1, 1935 in Youngstown, Ohio passed away at
his home in San Blas, Mexico on September 18 at the age of 77. The
Chicago White Sox signed Jack Kralick prior to the 1955 season after
Kralick had played baseball for one season at Michigan State but
released him in June of 1958. The Washington Senators signed Kralick in
September of 1958 and he made his major league debut with the Senators
on April 15, 1959 at Fenway Park throwing one inning of relief in a 7-3
loss to the Red Sox after having never pitched above single A ball in
the minor leagues. Kralick ended up spending most of his 1959 season in
double AA Chattanooga before making the Senators starting staff in 1960
and then became a Minnesota Twin when the Washington Senators moved to Minnesota after the 1960 season. Continue reading
#1 – This Date in Washington Senators History / February 21  by Art Audley
1969 Ted Williams returns to baseball full-time, signing a five-year contract to manage the Washington Senators.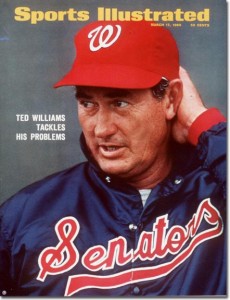 Senators Birthdays
Joseph Anthony Foy B Feb. 21, 1943 D Oct. 12, 1989
Originally drafted by the Minnesota Twins before the start of the 1962 season, Joe Foy would be drafted by the Boston Red Sox in November of that year.
Foy would make his major league debut with the Red Sox in 1966, playing in 151 games mainly as a 3rd baseman. Foy would hit .262 for Boston in his rookie campaign.
Foy would remain a regular with the Red Sox through 1968 and would make it into 6 games of the 1967 World Series against the St. Louis Cardinals.
After the season he was selected by the Kansas City Royals in the expansion draft. Foy would play in 145 games for the Royals in their inaugural season, once again hitting .262.
After the season, Foy would be on the move again when he was traded to the New York Mets. Foy would appear in 99 games for the Mets in 1970.
Drafted by the Washington Senators in November of 1970, Foy would join the expansion Senators for their last season in Washington. Playing in 41 games, Foy would hit .234, his last game coming in late May. Foy would be released by the Senators in mid-July.
Milton Marshall Gray B Feb. 21, 1914 D Jun. 30, 1969
Catcher Milt Gray avoids the title of One Game Wonder by virtue of having played in 2 games for the Senators on May 27th and 28th of 1937. Gray would go 0-6 at bat.
Lloyd Eldon Hittle B Feb. 21, 1924 Still Living
Coming to the Washington Senators from Oakland of the Pacific Coast League in May of 1949, pitcher Lloyd Hittle would make his major league debut in mid-May.
Pitching in 36 games for the Senators in 1949, Hittle would post a 5-7 record with a 4.21 ERA.
Starting the 1950 season in Washington, Hittle would pitch in another 11 games going 2-4 with a 4.98 ERA.
His last major league game would come in mid-May, 1 day shy of the anniversary of his first big league game in May of 1949.
Our most popular stories in 2012 – #20 to #11