A Collector's Big Score: The World of Sports Memorabilia
As someone who enjoys collecting sports memorabilia I am personally looking forward in attending this event.. Personally I think this evening will be very educational. I'm really interested in hearing what Frank Ceresi and Hank Thomas have to say about the world of sport memorabilia.
I was told by Frank Ceresi told me that,folks are encouraged to bring in their baseball memorabilia and I might be able to weave anything they bring into our presentation (we encourage only pre-1960 items, one per person).
The Smithsonian Associates Symposium April 3rd, 2013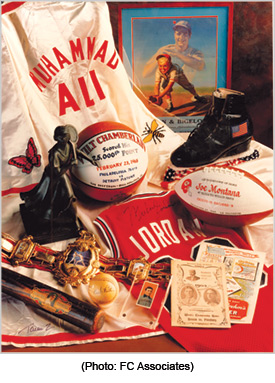 A Collector's Big Score: The World of Sports Memorabilia
As seen by the $3 million fetched by Mark McGwire's 70th-home-run-baseball or a $2.8 million Honus Wagner baseball card from 1909, sports memorabilia is one of the hottest areas of collecting around. Not all items, of course, go for such out-of-the-ballpark prices, making this an appealing and accessible niche for many sports aficionados.
In this entertaining and informative evening, sports memorabilia experts Frank Ceresi and Hank Thomas survey the field's current trends and the next potential areas of collecting interest.
Whether you're a fan of baseball bats or hockey gear, golf balls or game-worn sports jerseys, find out how to spot the fakes and forgeries, learn techniques used by the experts for authentication and appraisals, and see some examples of great sports collectibles.
Bring an original, vintage item (pre-1960) and it might even become part of the presentation. (Appraisals will not be given on participants' personal memorabilia.) And to make the evening more fun, a few lucky participants will win their own collectible, a baseball autographed by Joe Torre. Library of Congress representatives will be on hand as well sharing their baseball treasures.
Ceresi is a director of FC Associates, which specializes in museum consulting, exhibition planning, appraisals, and other services centered on memorabilia. The former curator of the MCI National Sports Gallery, he also writes for several sports memorabilia collectors' publications and sites. Also, he is curating the first online baseball museum at TheNationalPastime.com launching Opening Day. Thomas is the grandson of Walter Johnson, legendary Washington Senators pitcher from 1907 to 1927 and Baseball Hall of Fame member, and a collector and dealer of sports memorabilia.
To purchase tickets click here.
LOCATION:
S. Dillon Ripley Center
1100 Jefferson Drive, SW
Metro: Smithsonian Mall Exit (Blue/Orange)