Speak softly and carry a Big Stick
This past February at the D.C. Baseball History Winter Meeting the first hour of the meeting was set aside for the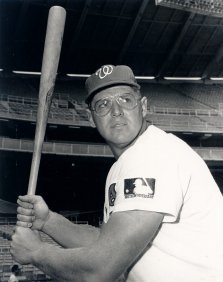 attendees to introduce themselves and to share a piece of their Washington baseball memorabilia with the group. I would say half of the 50 people who attended the meeting brought in some type of D.C. baseball memorabilia to the meeting
One of the attendees, Jeff Brown, brought in a Baseball Bat order from the Washington Senators. The team ordered the bats on January 11, 1968. I did not have time to get a closer look at the at the bat order at the meeting so I asked Jeff if he could send me a copy of the confirmation of the bat order. A couple days after receiving my request Jeff sent me the player's bat orders.
The most interesting tidbit from the order is how much larger Frank "Hondo" Howard's bat was than the rest of his team mates. For us Senators' fans who remember watching the Senators games from the late 1960's remember how Frank Howard would make his baseball bat look like a tooth pick as he would swirl his bat over his head in the batters box as the pitcher on the mound would go through his wind up.
For Howard he would always let his big bat do the talking.  During the 1968 season Howard would have his most productive season of career up to that point in time.
| | | | | |
| --- | --- | --- | --- | --- |
| HOME RUNS | | | RUNS BATTED IN | |
| Howard (WSA) | 44 | | Harrelson (BOS) | 109 |
| Horton (DET) | 36 | | Howard (WSA) | 106 |
| McCovey (SFG) | 36 | | McCovey (SFG) | 105 |
| Harrelson (BOS) | 35 | | Santo (CHC) | 98 |
| Allen (PHI) | 33 | | Williams (CHC) | 98 |
| | | | | |
| Slugging % | | | Total Bases | |
| Howard (WSA) | 0.552 | | Howard (WSA) | 330 |
| McCovey (SFG) | 0.545 | | Williams (CHC) | 321 |
| Horton (DET) | 0.543 | | Aaron (ATL) | 302 |
| Allen (PHI) | 0.52 | | Rose (CIN) | 294 |
| Harrelson (BOS) | 0.518 | | Alou (ATL) | 290 |
| | | | | |
| Runs Created | | | Extra Base Hits | |
| Yastrzemski (BOS) | 121 | | Howard (WSA) | 75 |
| Rose (CIN) | 113 | | Williams (CHC) | 68 |
| Howard (WSA) | 110 | | Brock (STL) | 66 |
| McCovey (SFG) | 110 | | Aaron (ATL) | 66 |
| Williams (CHC) | 107 | | Robinson (BAL) | 59 |
| | | | Allen (PHI) | 59 |
| | | | Banks (CHC) | 59 |