ONCE UP A DIAMOND, Senators wore spikes
ONCE UP A DIAMOND, Senators wore spikes. They played at a ballpark even though it was called a stadium. Griffith Stadium.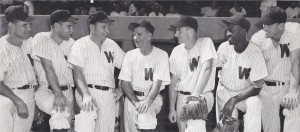 In the early fifties, folks came by car and by trolley. They paid $2.50 for a box seat. A dime for a scorecard. A quarter for a coke. Same for a hot dog – a Briggs Hot Dog. Warm National Boh beer was optional.
There were single-price doubleheaders on Memorial Day and the Fourth of July. I do not recall fireworks. And no exploding scoreboards. Griffith was a ballpark. Glen Echo was the amusement park.
The Senators were always losing and frequently amusing. Outfielder Carlos Paula was hit on the head with a fly ball. Seven Senators wore eye glasses. A dozen more should have done the same.The team had a couple of miniature outfielders – Ernie Oravetz and Albie Pearson who were hard to find when the grass was tall.
Pitcher Bobo Newsom was round and kept coming around – five stints. When told he didn't have it anymore, Bobo complained, "I'm throwing as hard as ever – the ball just isn't getting there as hard."The kids in Lacy's Knot Hole gang never complained. We knew that each spring there would be cherry blossoms and Opening Day. That's all that mattered.
Well, the old ballpark is gone. As are the trolleys and the $2.50 box seat. There's a new team – a very good team. But the Senators wearing spikes have dwindled down to a precious few.
We lost Eddie Yost on Tuesday. "The Walking Man" died three days after his 86th birthday. How wonderful is it that we still have Conrado Marrero, "El Guajiro de Laberinto" – The Peasant from Laberinto. The little right-hander who fooled the best hitters with his curves and sliders ("God, was he tough to hit," Ted Williams said). Marrero is 101 and living in Cuba.
Sadly, Bob Allison and Harmon Killebrew died far too soon. We still have Roy "The Boy" Sievers, the real Joe Hardy. The movie makers used clips of Sievers batting in "Damn Yankees," rather than risk embarrassment to the actor, Tab Hunter.
I liked a little left-handed named "Bunky" Stewart. Bunky's real name was Veston Goff Stewart. He was good at billiards. He wore a size 6 1/4 cap. Small head. High ERA.
Catcher Clint Courtney wore glasses and got into many fights. Poor guy died playing ping pong. Shortstop "Yo-Yo" Davalillo came up in late 1953 and was said to have "a motor in each shoe." He was a Venezuelan Army vet. He weighed 149 pounds. Scoring a run against Cleveland, 'Yo-Yo" thought Indians catcher Jim Hegan was congratulating him by saying, "you little bastard."
One spring when manager Bucky Harris was checking off the names of his catchers, Washington Star baseball writer Burt Hawkins asked about Frank Sacka. "Sacka?" Bucky snarled. "Sacka-shit."