Bryce and Frank
Frank Howard was Washington, DC's most prodigious home run hitter, leading the American League in long
balls in both 1968 and 1970, but his best year was 1969 when he hit 48, though he finished second to Harmon Killibrew that season who hit 49 to lead the Majors.
When Bryce Harper hit three home runs yesterday, Washington DC fans were watching the best display of raw power since Frank Howard packed his bags for Texas in 1971 with the rest of the team. Frank Howard never hit three home runs in a game during his career. He hit two home runs 26 times. Yet there is still something eerily similar to the beginning of Bryce Harper's story and that of the Capital Punisher.
The furthest of Harper's three shots yesterday was estimated to have traveled 441 feet. While the distance is impressive as anyone at the park will attest, he will probably hit them further during his career if he continues at this pace. Frank Howard was reputed to have hit a ball at Pittsburgh's old Forbes Field in 1960 at 560 feet, nearly as far as the 565 feet that Mickey Mantle's famous home run that cleared old Griffith Stadium. Howard's longest home runs were memorialized with white painted seats where those home runs landed at RFK. Another mythic slugger, Mark McGwire sent shots into those seats and up into the light standards during batting practice before an Cardinals-Expos exhibition game in 1999, the next spring after his legendary battle with the other enhanced slugger, Sammy Sosa.
Mythic is the best term to describe those old home runs because their length has been consistently overestimated. Frank Howard dismissed the estimates of 560 feet for his blow in Pittsburgh and better minds prevailed with a very generous figure of 520. Mantle's shot at Griffith Stadium was triangulated to have been at slightly less, 515 feet, which got no argument from the sports writer Red Patterson who had credited the Mick with the epic distance.
But when all was said and done, Frank Howard said after his great slugging season in 1969 that it was not the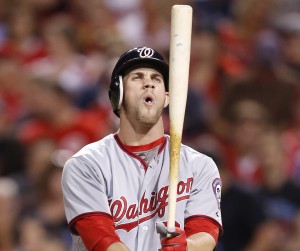 home runs that drove him, it was hit quest to hit over .300 that year. In June of 1969 Hondo's batting average topped .300 where it stayed for most of the summer. In August he slumped back to below .300, but a hot September run by the Senators and Howard pushed his average back to .310 on September 9th. As late as September 24th, Frank was still batting .300, but he fell off in the last games of the season and his final mark for the year finished at .296.
It was the best season of his career and most notably his On-Base Percentage that year was .402, far above any previous year. In the spring of 1969 Ted Williams had told Frank that any slugger who could hit 44 home runs as he had in 1967 should be getting on base far more. Williams' most famous admonition to his team mates was, "Get a good pitch to hit, bush." His counseling of Frank Howard paid off and though Howard was 32 in 1969, he was not too old to learn a new trick. In 1970 his OBP was .416 and he finished his career a far better overall hitter than in his early years.
There may never be seats at Nationals Park painted to commemorate the landing spots of Bryce Harper's longest shots. But Harper has the raw ability to do that and much more. Like Frank Howard, Bryce is beginning to put it all together a few years into his career. Where Frank Howard had his best years in his early 30's, Harper is still only 22. Like a puppy with large paws, all the indications have been that Harper would grow into his talent with time.
During last year's playoffs, Harper hit three home runs and batted .294. Many saw in that brief moment the first beginnings of Harper's real maturation. It has been more evident in the first month of 2015 as Harper has made fine running catches in right field while moving his game at the plate to new levels as well. Harper leads the National League in one category that would make the Splendid Splinter proud. He has an OBP of .416, equaling the mark set by Frank Howard in his best season. He is getting good pitches to hit and showing a new patience in his approach.
In March, on Sirius XM, two commentators were arguing about Harper's future. One asserted that Harper seemed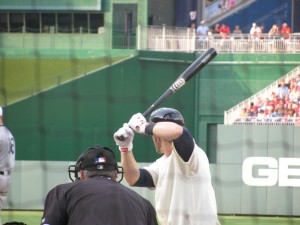 to have a death wish, that his brash style and run-ins with walls were indicative of a destructive urge that was troubling. Young men are like that, but it appears that Bryce Harper has moved on and is on the verge of something more lasting. Nelson Cruz has 13 homers so far this season and Todd Frazier—who was runner up to Harper for Rookie of the Year in 2012—has nine. Harper's eight home runs put him on a pace for 45 for the season and those numbers and the possible totals of the others hark back to 1969 when a pretty fair home run race unfolded between Howard, Reggie Jackson and Harmon Killibrew.
The 2015 season will be an important one for the young slugger, and as the man in front of me at the game said, "we are watching history." Ted Williams, Frank Howard, and the names of the great sluggers that once walked not only Washington's baseball greens, but the rest of them as well, have laid out a path that Bryce Harper has set out upon. There is a long way to go, but he is young, and as was seen yesterday, he is making good progress.