The 2015 Firpo Marberry Award Nominee
Perhaps the greatest relief pitcher that the old Washington Nationals ever sent out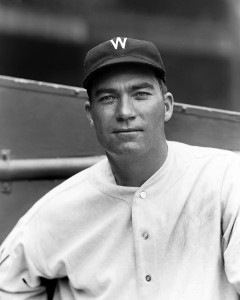 to rescue the game was Firpo Marberry. Forty-five years before the "Save" became part of baseball nomenclature, Firpo was saving some of the most important games in DC Baseball history. In 1924, Marbery recorded 15 Saves in a season in which he threw 195 innings.
It is a remarkable feat to consider. He started 14 games and finished 41, of which six were complete games he pitched as a starter. Whatever Bucky Harris needed him to do, Marberry obliged willingly and did it quite well. He had a losing season in 1924–11 wins/12 losses, but his ERA of 3.09 is more reflective of his value to the team.
This year's nominee for the Firpo Marberry Award: Tanner Roark.
Watching Tanner Roark pitch more than nine decades after Marberry helped the Nationals to the World Series, it is difficult not to reflect back on Firpo Marberry. Roark was a fine starter last season and no doubt he was disappointed when the team signed Max Scherzer, relegating him to the bullpen despite his fine 2014 season—15 wins/10 losses, 2.85 ERA.
But like Marberry, Roark seems happy just to be on the field for a fine team that is playing winning baseball. Roark can throw a bit harder than Firpo who managed only 68 strikeouts against 70 walks, a ratio that would m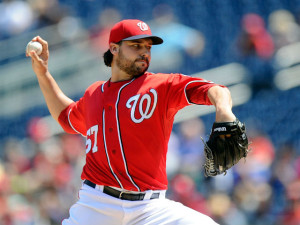 adden many modern managers, but Bucky Harris needed all the help he could get to stretch 36-year old Walter Johnson's career as long as possible. That may have been Marberry's most important contribution. The team had only three dependable starters: Johnson, Tom Zachary and George Mogridge. The Big Train threw 277 innings that season and won 23 games, but he had scaled back from the first decade of his career when he averaged 343 innings each season.
Marberry gave the Nationals an extra weapon and they needed one. At the end of May, 1924, the Washington Nationals were not even playing winning baseball. Their record stood at 17 wins/19 losses after May 31. A torrid June put the team into contention and they finished the season on an even hotter pace, claiming first place for good on August 28th when they beat the Yankees in the first of a four-game series that they won three-games-to-one to give credence to their claim to superiority over one of the finest teams of the era.
Marberry pitched in all three wins of that critical series against New York, saving the first two and outpitching Bullet Joe Bush in the final game to notch the win.
Tanner Roark could prove just as useful as the Nationals look to run deep into the playoffs in 2015. A pitcher that can fill a rotation spot, work long out of the pen, or close is going to be important all season long. So much can go wrong, which opens all those holes for Roark to fill. His role sounds so much like that of Firpo Marberry it almost seems like 1924 all over again.