Bam-Bam and the Big Train, a pair of D.C. legends
As if Bryce Harper had not already endeared himself to Washington baseball fans, his legend grew even further when he stepped into the batter's box at Nationals Park on the Fourth of July, wielding a star-spangled bat emblazoned with the D.C. skyline, and launched a two-run homer to spark a 3-for-4 day.
Add that to Harper's other legendary shots: A reported 502-foot blast at Tropicana Field in 2009, when he was a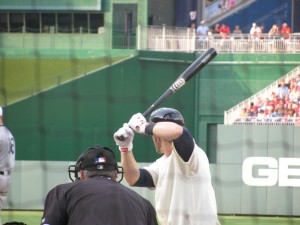 kid from Las Vegas nicknamed Bam-Bam, playing in a high school showcase; his first big league round-tripper at age 19 on May 14, 2012, his pair on opening day of 2013, when he became the youngest player ever to homer twice in his team's first game; his bomb into McCovey Cove during the 2014 NL Division Series in San Francisco; and the three he hit on May 6 this season, when, at 22, he became the youngest player in 46 years to accomplish such a feat.
Harper's achievements to this point in his career harken back to those of another Washington phenom who came from the West and broke into the major leagues at age 19. Like Harper, this guy struggled with injuries in his early years and broke out in his fourth big league season at age 22. His name: Walter Johnson, the Big Train.
A native of Humboldt, Kan., Johnson came to the attention of the Washington Senators in 1907, playing in the semi-pro Southern Idaho League in the town of Weiser. Johnson refused to make the jump to the majors before his current season was finished, and when he finally came to town, his reputation preceded him. According to the Society for American Baseball Research, the man known at the time as the Weiser Wonder was coming off a season with a 14-2 record, an 0.55 ERA, 214 strikeouts in 146 innings, and a streak of 77 scoreless innings, including back-to-back no-hitters.
Johnson's major league debut came on Aug. 2, 1907 in the second game of a doubleheader as the last-place
Senators faced future Hall-of-Famer Ty Cobb and the Detroit Tigers,who were on their way to the American League pennant. Johnson and the Senators lost that game 3-2, but Cobb wrote in his autobiography that Johnson's fastball "made me flinch" and "hissed with danger."
Johnson finished his rookie season with a 5-9 record and a 1.88 ERA for a Senators team that finished 49-102, 43½ games behind Detroit.
His next two seasons were disappointing, though he showed more flashes of brilliance. According to his biography at Baseball Reference, Johnson suffered an ear infection before the 1908 season that eventually required surgery and sidelined him until June 11. The highlight of that season came on Labor Day weekend, when he pitched three consecutive complete-game shutouts against the Highlanders (It was common in those days for pitchers to start in successive games). He finished 14-14 with a 1.65 ERA.
Johnson's 1909 campaign was also marred, this time by a severe cold that forced him to miss the start of the season. According to Baseball Reference, he took on a heavy workload before he was fully recovered. He developed a sore arm in August, and was out of the lineup for three weeks, finishing 13-25 with a 2.22 ERA.
In 1910, though, in his fourth major league season, Johnson turned his potential into success. New manager Jimmy McAleer gave him three days of rest between starts, and Johnson began relying almost exclusively on his fastball, reputed to be the best in baseball. Johnson got the ball on opening day for the first of 14 times in his career, and tossed a one-hit shutout against Philadelphia.
Johnson finished 25-17 to start an unmatched decade of dominance. He would win at least 25 games in each of the next seven seasons, and from 1910 to 1919, he went 265-143 with a 1.59 ERA. His 1913 season included 55 1-3 consecutive scoreless innings – still an AL record, and he led the league in strikeouts nine times in the decade and 12 times in his career.
Johnson finished his Hall-of-Fame career with 417 wins, a major league record 110 shutouts, a 2.17 ERA, and led Washington to two pennants and a World Series championship in 1924.
It's too early to tell if Harper will go on to such achievements and dominance. But the parallels to Johnson's career are already there, as is his lore and legend. It will be fun to see how it turns out.