Zimmerman's big weekend, and memories of Frank Howard
If there was a silver lining in last weekend's series loss to the Colorado Rockies, it's that Ryan Zimmerman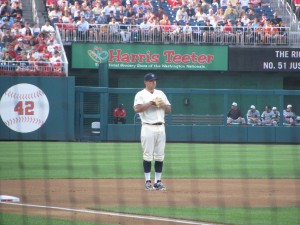 appears to have fully recovered from the plantar fasciitis that has sidelined him for much of this season.
The Nationals first baseman has hit safely in four straight games and seven of his last nine, and driven in runs in seven consecutive games. But in the past week, he's shown that his power is back, crushing three homers, including blasts to center field in back-to-back innings on Sunday. It was the 13th multi-homer game of Zimmerman's career, upping his total to 193 round-trippers.
No one has collected so many home runs in a Washington uniform since Frank Howard belted balls into the upper deck of RFK Stadium from 1965-71, with 237 of his 382 career homers coming as a Senator. Howard, known as Hondo, or the Capital Punisher, celebrated his 79th birthday on Saturday at his northern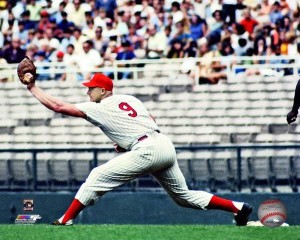 Virginia home. This season also marks the 50th anniversary of his first year in Washington, after the Senators acquired Howard, third baseman Ken McMullen, first baseman Dick Nen and pitchers Phil Ortega and Pete Richert from the Los Angeles Dodgers for pitcher Claude Osteen, infielder John Kennedy, and $100,000.
The lumbering 6-foot-7 Howard was a basketball star at Ohio State who once grabbed 32 rebounds in a game and was drafted to play in the NBA. But Howard's love was baseball, and he signed with the Dodgers in 1958, their first year in Los Angeles, for $108,000, including $8,000 for a house for his parents.
He was the 1960 NL Rookie of the Year, hitting .268/.320/.464 with 23 home runs. Howard posted respectable power numbers in 1962-64 (31, 28 and 24 homers), but high strikeout totals (108, 116 and 113). The Dodgers then decided they wanted to build their team around speed and dealt away the power hitters, including Howard.
Howard flourished in Washington, although it took him a few years and the tutelage of three different managers to bring it all together. Former teammate Gil Hodges moved Howard to left field and had him concentrate on hitting. Playing through injuries in a pitching-rich American League in 1965 and 66, Howard hit 21 and 18 home runs, with averages of .289 and .278. But his long shots became legendary, and the Senators began painting the upper deck seats at RFK white to mark the landing spots for his blasts. He once joked that the yellow seats (the regular color) were for all the times he struck out.
The next season, Hodges changed his batting stance and asked him to uppercut his swing a little. The results were dramatic. Howard's homers doubled to 36, but his strikeouts soared from 104 to a league-high 155 and his average dipped to .256.
Then, under former Senators slugger Jim Lemon, Howard became one of the most feared hitters in baseball. Fans across the nation may recall 1968 as the Year of the Pitcher, but those in Washington remember it as the year Frank Howard smashed the record books. In early May, he had a stretch of 20 at-bats like no one had ever seen. Between May 12 and May 18, he homered at least once in every game (May 13 was an off day), collecting 10 in all, and drove in 17 runs. That set major league records for most home runs in four games (7), five games (8), and six games (10). He led the AL in all the Triple Crown categories (.342, 22 HR, 47RBIs) as late as June 9, and finished with a league-high 44 homers, a .274 average (third in the league) and 106 RBIs (second).
Those who thought it couldn't get any better for Howard were wrong. In 1969, the Senators lured legendary hitter Ted Williams out of retirement to manage the team. The last man to hit .400 had a spring training conversation
with Howard in which he asked the slugger to take a strike more often. That put Howard ahead in the count, and he got even better pitches to hit. He belted a career-best 48 homers that season, tied his career-high with a .296 average, struck out just 96 times (his only full season with fewer than 100) and nearly doubled his walks from 54 to 102.
The following season, he led the AL with 44 homers, 126 RBIs and 132 walks, with a league-high 29 intentional passes.
1971 was a disastrous year for Washington baseball, as the Senators announced their move to Texas. Howard finished with 26 home runs, but his last in a Washington uniform was his most memorable. On Sept. 30, 1971, the Senators' final game, Howard stepped to the plate in the bottom of the sixth inning against Yankees pitcher Mike Kekich and belted a solo shot to left field. Howard rounded the bases to a thunderous ovation that continued after he went back to the dugout. A teary-eyed Howard stood on the top step and blew a kiss to the crowd, then tossed them his helmet. The Senators wound up forfeiting the game 9-0 after those same fans stormed the field late in the game.
Howard was traded to Detroit in 1972, where he helped the Tigers win a division crown. In 1973, the first year of the designated hitter, the 36-year-old Howard played one last season in the majors, logging 85 games. He signed to play in Japan in 1974 but was injured in his first at-bat and never played again. Howard coache in several organizations through the 1990s and managed the San Diego Padres in 1981 and the New York Mets for most of 1983.
Zimmerman's home runs may not be as long as Howard's legendary blasts, but if he stays reasonably healthy, he has an excellent chance to hit another 45 homers as a National, which would move him past Howard as the city's most prolific slugger. But no one will ever replace Frank Howard, the Capital Punisher, in the hearts of Washington Senators fans.