Numbers don't tell the whole story – The Jim French Story
To Washington Senators team owner Bob Short and team vice-president Joe Burke, Jim French was a triple-A catcher at best, but the team's manager disagreed. "He does a darn good job at handling pitchers and gets the ball away fast," said Ted Williams. "The runners don't go hog-crazy on him." Williams also added that in his mind his catcher possessed a lot of "ginnegar" (a combination of ginger and vinegar).
The fiery catcher was also appreciated by the Washington fandom, and even had the backing of an approximately fifty-member fan club named his honor. "Jim French, you see, was my hero," said one of the Jim French fan club members. "I knew in my heart that he was a weak hitter on a average-hitting team. His bat was like a toothpick compared to those wielded by Frank Howard and Mike Epstein. His arm was a popgun compared to Paul Casanova's riffle. Yet I also knew that he gave that mythic 100 percent effort in every game."
Jim French played in seven consecutive seasons for the Washington Senators (1965-1971). He split time with the Senators and with Washington's minor league clubs during five of those seven seasons. He was never anything more than an alternate catcher during his major league career. His major league lifetime batting average was .196. But that didn't bother the 5'8, 180 pound catcher. "A player has other ways of contributing in addition to batting average," he said. "I get on base a lot and move runners over. I'm not that bad of an offensive player. There are others, not necessarily on this team, with bigger averages who don't contribute as much."
On the field French had a reputation for his competitiveness and ferocity behind home plate, and for making a wild adventure on every foul ball within one hundred feet of home plate. With his stumpy legs churning the gravel, his thick arms reaching out for the ball, French went after every foul ball that he considered playable. "One of these days I am going to slide into the wrong dugout and they're going to beat the hell out of me," he said with a laugh. "One of these days the kamikaze charge of the Senators cast iron catcher will carry through the backstop and into the seats," wrote a sportswriter. But it was this kind of spirit that was admired by his manager. "He goes down in my book as one of the great hustlers on the game," said Ted Williams.
And he never backed away from a fight or a challenge. In a game at Fenway Park during the 1969 season, French engaged in a shoving match with an opponent while defending his pitcher. The following day he received a phone call in his hotel room from a disgruntled Red Sox fan. "Were going to get you," said the caller. "Don't worry, I'll be at the ballpark," replied French. Another time he jumped a Portland batter who edged up to the plate to gage his pitcher's warm-up tosses. "I don't want them looking at my pitchers," he said.
He also wasn't afraid to stand up to authority. In 1971, unhappy over his salary offer from Senators vice-president Joe Burke, French went to a higher source for discussion. When he finished making his point to Bob Short, the catcher's 1971 salary would be satisfactory of the dollar amount of his liking.
It was reported before the 1971 season that Washington minor league catcher rookie hopefuls Dick Billings and Rick Stelmaszek "couldn't help but be excited" about the possibility of replacing the current catcher on the Washington roster after noting a .211 batting average from the previous season. "That's the way it should be," was how French responded to the challenge. "The best man ought to be catching." The Washington writers believed that Jim French thought he was the best catcher on the roster. "If I hit .211 I must be a heck of a player in other ways to still be playing this game," he added.
"He's short, not fast, not much power, doesn't have the strongest arm and wears thick glasses," said Williams. "He's smart, a good competitor and compares with anybody when you talk about getting the most out of ability," and the manager mentioned that he had a spot for him on his roster. "I'm as high as hell on Frenchie. I'm counting on him to be one of our catchers."
Jim French's love for baseball began at age eight, when his grandfather gave him a catcher's mitt with the hope that his grandson would one day become a major league player and a lawyer. "My grandfather was a real good semipro catcher, who had five sons and none of them ever went to college or played pro ball," French explained. French didn't have a law degree, but did earn a masters degree in finance, leading to a job with Computer Science Corporation in Northern Virginia. He also helped his dad operate his 300-acre farm in Andover, a town located in the state (Ohio) where French was born. And in addition, French was married and the father of two. "I guess I have too many irons in the fire," he said.
His Major league baseball career began on a "blue-rainy Sunday" in September of the 1965 season. A late season call up, French made his debut in the Senators starting lineup against the California Angles before a skimpy D.C. Stadium crowd of 840 fans. And in his first ever major league game, he went 2-for-2 at the plate, which a sportswriter from the Washington Post noted to his readers. "Jim French, a freshman catcher who spent most of this season at York (PA), of the Eastern League, had a perfect day with two singles and two walks. He also scored two runs." One other note for that day: French was on base when Brant Aylea, another Washington rookie making his major league debut, hit a three-run homer on the first pitch he ever saw in the majors. Nine days later it was the freshman catcher who hit is first major league home run, off of Jim Dixon in a 4-3 Washington win at Kansas City's Municipal Stadium. In eleven major league games in 1965, French made 13 hits in 37 at bats, good for a .297 batting average. He drove in 7 runs, drew 9 walks and threw out four base stealers. However, this wouldn't be his ticket to stick in the majors. French spent most of the next two seasons in the minor leagues. In 1968, he split the season in Washington and in Buffalo. Then finally, in 1969, he spent his first full season with the Senators, the season that Williams took over as pilot of the Senators. Williams worked with French to improve the catcher's .174 batting average from the year before. Although he worked well with the pitchers and displayed a ton of enthusiasm as an alternate catcher French hit just .184 that season. "I talked hitting to him as much as I can," said Williams. When French arrived at Pompano Beach for spring training in 1970, he announced he was going to work with Senators' coach George Susce (a .228 lifetime hitter) to help increase his batting average. By the all-star break French was hitting an improved .250 and with 38 walks in 69 games, "an excellent total for one who played in just 69 games," wrote Goerge Minot Jr. of the Washington Post. "Only one other guy on the team (Frank Howard) has a better on base percentage," Williams proudly said.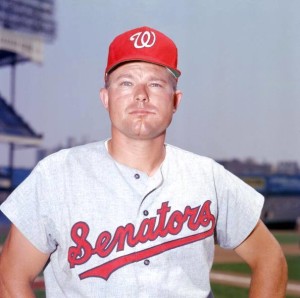 Before the 1971 season, French was fifty-five days short of active service in reaching the major league baseball pension plan. He played in fourteen games through the first six weeks of the season, but was just 13-for-46 at the plate for a .146 batting average, leaving manager Williams with no choice but to send him down to the minors. To help him earn his eligibility for his pension, Williams was able to transfer him to Richmond, the triple-A affiliate of the Atlanta Braves. At the tail end of the season, Williams made sure French was placed on the Atlanta roster to obtain his remaining number of days of active service to assure his qualification for his baseball pension. When the long 1971 season finally did end, French retired from the game.
Although never one of the very best players to wear the red and white and the red caps with the curly W, Jim French will always be remembered as a member of the Washington Senators, and for his hustle, desire and making the most what he had to offer. One fan summed up the memories of the former Senators catcher a few years ago when he said, "Since I realized that I would never grow up Frank Howard sized, Jim French served as my role model. I remember him sprinting down to first base on a base on balls, rounding the bag when the fourth ball got by the catcher and sliding into second."