4th Annual D.C. Baseball History Meeting
4th Annual D.C. Baseball History Meeting
D.C Baseball History and The Washington Baseball Historical Society
Present: The 4th Annual Winter Meeting
Saturday, February 27, 2016
1:00 P.M – 5:00 P.M.
Hilton Garden Inn
7301 Waverly Avenue
Bethesda, MD 20814
301-654-8111
The afternoon event is free to attend.
Agenda:
1:00 – 1:30 – Meet and Greet – featuring the Popular pre-made sandwich buffet, which includes
ham, turkey and roast beef sandwiches, condiments (Mustard, Mayo, horseradish) dill pickles, lettuce
tomato, individual bag of chips, assorted fresh fruit and assorted soft drinks.
1:30 – 2:15 – Mike Wallace, Co-host of MASN's Nats.
2:15 – 3:00 – Russ White, long time Washington sports reporter
3:00 – 4:00 – Jim French, catcher for the Washington Senators (1965 – 1971)
4:00 – 5:00 – Book signings, memorabilia for sale
To reserve a seat for the meeting please send Mark Hornbaker a e-mail to mhornbaker@comcast.net
D.C Baseball History and The Washington Baseball Historical Society will also be hosting a dinner after the 4th Annual D.C. Baseball Meeting on February 27, 2016.
The dinner will also take place at the Hilton Garden Inn
*Join Russ White and Jim French for dinner after the meeting.
Dinner will be served in the Montgomery Room at 6:00PM.
*The first 30 people to RSVP will get a seat for the dinner.
Dinner will costs $50 per person. The room only hold 30 people.
RSVP by sending Mark Hornbaker a check no later than February 1, 2016.
17204 Hoskinson Rd
Poolesville, MD 20837
DINNER BUFFET includes the following:
Prime Rib with Horseradish Cream
Salmon with White Wine Cream Sauce
Fresh Garden Salad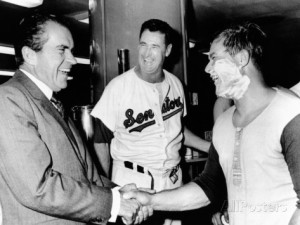 Tomato, Mozzarella & Basil Salad
Rosemary Roasted Potatoes
Grilled Asparagus
Honey Glazed Baby Carrots
Chef Selection of Cakes and Pies
Nonalcoholic beverages are included in the buffet.
* Each person attending the dinner will receive a copy of this picture with Jim French's autograph.