Remembering Tom Cheney, who deserved better
Max Scherzer's 20-strikeout performance against the Detroit Tigers was certainly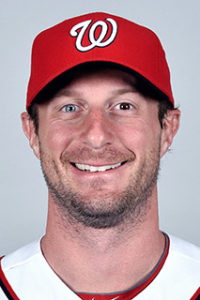 one for the ages, the highlight of one of the most remarkable weeks in the history of the Washington Nationals.
But Scherzer and Stephen Strasburg, whose contract extension was a key part of that week, owe a debt of gratitude to a man who might have given an even more impressive performance more than 53 years earlier.
As Scherzer piled up the strikeouts, matching the most ever in a nine-inning game, Nats fans posting in the "Washington D.C. Baseball Yesterday and Today" Facebook group observed that no mention was being made on TV or radio of Tom Cheney. Those of us in attendance at Nationals Park can't confirm whether the local broadcasters really forgot about the man whose 21 strikeouts still stand as the record for the most in any game. But it is clear that Cheney deserved better treatment than he got during or after his career-defining night on Sept. 12, 1962.
Cheney racked up his record total over 16 innings as the expansion Washington Senators beat the Baltimore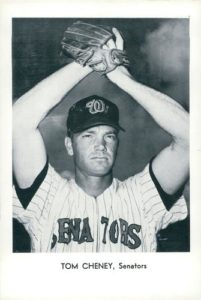 Orioles 2-1 at Memorial Stadium. What was most remarkable about his record-setting performance, though, was his endurance. He threw 228 pitches over those 16 innings. No one will ever see that again, regardless of what record is on the line.
Nor should they.
Perhaps the reason more people haven't heard of Cheney is that he had a largely unremarkable career, going 19-29 from 1957-1966 with St. Louis, Pittsburgh and Washington. Or maybe it's because the game was otherwise meaningless. The Senators were 57-92, heading for a 100-loss season, while the Orioles were 72-75, secure in sixth place in the American League. Only 4,098 were in attendance.
Accounts of the game state that Cheney insisted he finish what he started, even after manager Mickey Vernon tried to pull him with relievers warming. Complete games were more common in those days, and it wasn't unusual for pitchers to extend themselves into extra innings. Journeymen like Cheney were paid based on how many games they won.
But throwing so many pitches over so many innings likely took an unnecessary toll on Cheney's right arm. Midway through the 1963 season, he injured his elbow. Yet he continued to pitch, most likely because he feared losing his job. His last career win came the next season.
There's still a lot of talk about how much tougher the players were in the old days; how they didn't need pitch counts; and how pampered today's players are. Old timers will tell you that the reason no one pitches 16 innings anymore is because most players are millionaires and get paid no matter how they perform.
But Cheney and most other players like him were fighting for their livelihood, even as many worked odd jobs in the offseason to make ends meet. They didn't have a union, nor did they have freedom to join another team if they thought they deserved more money or better treatment. Why would the manager of a team playing out the string have shown any regard for a player's health?
Cheney didn't have a doctor who could diagnose a potential ligament tear, or perform career-saving Tommy John surgery, pioneered in the 1970s. Why would teams have wanted to monitor how many pitches guys threw, or develop protocols for them to recover from serious injuries?
Scherzer, Strasburg and today's other stars deserve all the accolades they've gained over the years, the multimillion-dollar contracts and all the other perks that major leaguers enjoy. They can thank the union, medical science, and enlightened managers and team executives.
Tom Cheney had none of those benefits, but he deserved better than he got – and he deserves to be recognized as the single-game strikeout king.