Strasburg's better (No, really, he is)!
So where are the Stephen Strasburg trolls now?
A year ago, they were out in force, but a guy who was once seen by some as a first-round bust seems to have quieted them, maybe for good.
Remember last year, when Strasburg was lifted from a game in Cincinnati after just batter into the second inning with tightness in his upper back? It was the fifth straight game where he lasted five innings or fewer, and the fourth in five when he didn't make it to four.
Strasburg was 3-5 with a 6.55 ERA at the time, and posters on message boards across the Nats blogosphere were calling for the team to cut bait on the 2009 first-round draft pick. Critics were questioning everything from his arm strength to his mental toughness to his manhood.
Even after he apparently turned his 2015 season around by winning eight of his final 10 decisions, his critics were all over him. This was especially true among New York Mets fans, who were pumped that their ace, Matt Harvey, in his first year back after Tommy John surgery, was set to blow past the 180 innings limit that the Nats placed on Strasburg in the same situation in 2012.
"Har-vey's bet-ter!" they chanted as Strasburg lost a 5-3 decision in Nationals Park that put the Mets one game closer to their eventual National League East title and NL pennant. They were still chanting it last week, even as Strasburg and the Nats beat Harvey and the Mets 7-4 to extend their division lead.
Now, a year after that seemingly ominous early exit in Cincinnati, and days after beating Harvey twice in a week in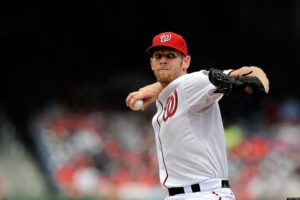 head-to-head matchups, it's clear that Strasburg is really the better pitcher at this point.
After his latest win against St. Louis on Sunday, Strasburg is now in some elite company not only in the NL, but in the annals of a Montreal Expos-Washington Nationals franchise that has included some pretty god pitchers.
His 9-0 record ties reigning Cy Young winner Jake Arrieta for the best record in the league and tops the franchise mark of 8-0 to start a season, set by Pedro Martinez in 1997. Dating back to last year, he has won 12 straight decisions, breaking a franchise mark of 11 straight, set by Dennis Martinez in 1989 and Livan Hernzndez in the Nats' inaugural season in Washington in 2005. The Nationals have won the last 15 games Strasburg has started.
Armed with a blazing fastball, a baffling slider, and now a seven-year, $175 million contract, Strasburg is poised to lead the Nationals to even bigger and better things and make the franchise record books all his own along the way.
It should be fun to watch, even for the trolls.