Streaks to remember: Stras and the Big Train
Stephen Strasburg has been in great company while streaking through this season, blowing past franchise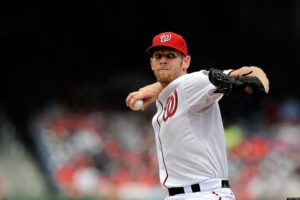 marks for consecutive victories set by Pedro Martinez, Dennis Martinez and Livan Hernandez, and matching Jake Arietta for the major league lead in wins.
If that's not enough, the Nationals star now stands shoulder-to-shoulder with arguably the greatest pitcher of all time, Walter Johnson. No one wearing a Washington uniform has won 13 consecutive decisions since the legendary, fireballing Hall-of-Famer from Humboldt, Kan.
The Big Train's big streak came in the original Nats' magical 1924 season. On July 11, when Johnson lost a complete-game, 4-3 decision to Detroit, the Nats were a game behind the first-place Yankees in the American League. The next time he took a loss, a 2-1 defeat in Boston, Sept. 26, the Nats were days away from clinching the pennant.
In between, Johnson proved that a 36-year-old in his 17th season had plenty left in the tank. During his streak, he
allowed just 105 hits in 124 innings, walked 30, struck out 64 and pitched to an ERA of 2.69, while the Nats went 16-1 in games he started.
Johnson and the Nats owned the month of August. He won seven games, four of them complete, one a complete-game shutout. In another game, he threw seven-innings of shutout ball. Johnson allowed more than one run only twice all month, in road games at Chicago and Detroit. In his spacious home at Griffith Stadium, Johnson was 4-0, allowing only one earned run in 32 innings.
He kept up the run in September, when the Nats had a now-incomprehensible 19-game, season-ending road trip, a parade through almost every AL city. Even when he lasted just one inning in St. Louis on Sept. 20, the Nats pulled out a 15-14 slugfest. The final win came on Sept. 22 in Chicago, when Johnson allowed just one earned run in an 8-3 complete-game victory over the White Sox.
A little more than two weeks later, Johnson was the hero of a seven-game World Series victory over the New York Giants, coming out of the bullpen to win the decisive game in extra innings.
The 27-year-old Strasburg's win streak with the National League version of the Nats stretches back to Sept. 15, when he began a 3-0, season-ending run, allowing 16 hits and 4 walks in 29 innings, with a 0.69 ERA. Batters hit just .160 against him.
Strasburg's best stretch of this, so-far perfect season came in May, when went 4-0 from May 14-29 with a 2.55 ERA, allowing 21 hits in 24 2-3 innings, striking out 32 batters and walking only eight. While his month of June has been rockier, the Nats got him off the hook after an ill-advised return from a rain delay in Cincinnati, then picked him up with a home run barrage after a shaky start on Saturday against the Phillies.
Stras faces a tall order to surpass Johnson's winning streak, a Wednesday afternoon matchup with the league-leading Cubs and Nats nemesis Jason Hammel.
But no matter whether he surpasses Johnson's Washington record or approaches Carl Hubbell's incredible 24-game run, Johnson's name is now in the record books alongside the greatest who ever played.