This Date in Washington Senators History – Big Train blanks Yanks 1-0 for 97th career shutout
June 28
1907 – A day that Branch Rickey would certainly like to forget. The Mahatma is pressed into service behind the plate despite a bad throwing shoulder for New York. The Nats take full advantage and run roughshod by stealing a record 13 bases in a 16-5 drubbing of the host Highlanders. Mr. Rickey will see better days ahead as a trailblazing executive.
1922 – In career shutout number 97, The Big Train strikes out 9 in blanking the powerful Yanks, 1-0. Senator Earl Smith's run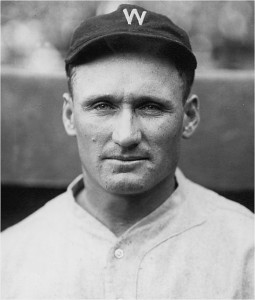 scoring double off New York's Waite Hoyt in the top of the 9th is the contest's only scoring.
1966 – The White Sox find themselves on the short end of this tilt, falling to the Senators, 4-1, at Comiskey. Sens lefty Mike McCormick goes all the way, allowing 0 walks and only 5 hits. All of Washington's scoring is courtesy of the long ball. Don Lock connects for his 10th in the 1st, a 3-run job, and McCormick helps himself by poling his 2nd home run of the season in the 3rd.
1970 – The Senators snatch victory from the jaws of defeat with a 12 inning, 4-3 win over Earl Weaver's Orioles in RFK. Mike Epstein's error in the top of the 12th gave Baltimore a 3-2 lead and a certain victory once again over the Nats. But the Nats Rick Reichardt comes to the rescue with a clutch, 2-run, pinch hit, home run off Eddie Watt for the exciting victory.
Senators Birthdays
Joseph Thomas Cascarella B Jun. 28, 1907 D May 22, 2002
Joe Cascarella's nickname listed at Baseball-Almanac is "Crooning Joe". I'd like to know if he earned that title by singing in the shower after a long game?
Regardless, Joe Started his career in the majors with the 1934 Philadelphia Athletics. After 9 games with Philadelphia in 1935 he was sold by the Athletics to the Boston Red Sox where he appeared in another 6 games.
In 1936, he appeared in 10 games for the Red Sox and then was traded to the Washington Senators for Jack Russell. Pitching in 22 games for the Senators in 1936, he went 9-8 with a 4.07 ERA. After 10 games with the Senators in 1937, when he went 0-5 with a 8.07 ERA, he was sold to the Cincinnati Reds. He'd finish the 1937 season in a Reds uniform and return in 1938 for 33 more games.
Bert Shepard B Jun. 28, 1920 D Jun. 16, 2008
The recently deceased Bert Shepard only ever appeared in one game for the Senators on August 4th of 1945.
However, the obstacles Mr. Shepard had to overcome to make it to that game are truly amazing and an inspirational story. A promising minor leaguer, Bert Shepard enlisted in the Army Air Corps during World War II. He flew a number of missions before being shot down over Germany. Unfortunately, he would lose a leg due to injuries received and spend part of the war in a German POW camp.
Returning to the US in a prisoner exchange, Shepard expressed a desire to continue his baseball career. Outfitted with a prosthetic leg, he tried out for the Senators and amazed Washington manager Ossie Bluege with his athletic ability. He was an outstanding example for many returning servicemen who had been wounded or maimed during the war, proving that one could overcome their disabilities and lead a normal and productive life after being injured.
Here's a link to a recent thread devoted to Bert Shepard with more detailed information:
As we approach Independence Day 2012, it is important to remember the servicemen and women who made many sacrifices, some giving up their lives, so that we can enjoy the many freedoms bestowed on us.
We salute you Bert Shepard-thank you and Rest In Peace.