Goose Goslin leads Senators over Yanks
August 28, 1924 – The Washington Senators win the first game of a four game series against the New York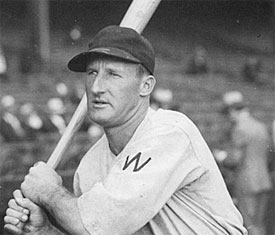 Yankees at Yankee Stadium by the score of 11 to 6. The Senators were led by Goose Goslin who hit for the cycle and went 4 for 5 and knocked in 6 runs during the game.
The victory put the Senators (72-54) a half game ahead of the Yankees (70-53) in the chase of the American League pennant. With a little more than month left in the season each game is critical, especially the games against the Yankees.
The first game of the series did not lack excitement as the Yankees and Senators combined for 17 runs and 31 hits. The great Babe Ruth improved his batting average to a league leading .392 and hit his league leading 41st and 42nd home runs and knocked in his league leading 105th. 106th and 107th runs, as he powered the Yankees to a 6 to 3 lead going into the eighth inning. Goose Goslin and Sam Rice who went 5 for 6 at the plate led the pesky Senators to an eight run top of the eighth inning and gave the Senators an 11 to 6 lead going into the bottom of the eighth inning.
The Senators star relief pitcher Firpo Marberry gives up one hit and strike outs three as he registers his 10th save of the season. The Senators' pitcher Allen Russell gets the win as he improves his record to 4-1 and the Yankees' pitcher Milt Gaston (5-3) gets the loss.
Quick Facts – Goose Goslin
*Goose Goslin becomes the first player to hit for the cycle at Yankee Stadium.
*Goose Goslin will prevent Babe Ruth from winning the Triple Crown as Goslin leads the league in RBI's with 129.
*Goose Goslin hit more home runs (32) in Yankee Stadium than any other visiting hitters. *Goslin only hit 38 career home runs at Griffith Stadium. The great Babe Ruth only hit 34 home runs at Griffith Stadium.
Quick Facts – 1924 Washington Senators
*The Senators will go on to win this series three games to one and lead the Yankees by one and half games.
*The Senators will never give up the lead for the rest of the '24 season as they beat the Yankees by two games to win the '24 American League Pennant.
*The Senators will win the '24 World Series by beating the New York Giants 4 games to 3.