5th Annual D.C. Baseball History Meeting
5th Annual D.C. Baseball History Meeting
Sponsored by Mark Hornbaker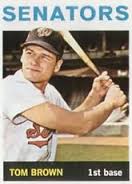 D.C Baseball History and The Washington Baseball Historical Society
Present The 5th Annual Winter Meeting
Saturday, February 25, 2017
12:00 P.M – 5:30 P.M.
Hilton Garden Inn
7301 Waverly Avenue
Bethesda, MD 20814.
The afternoon event is free to attend.
Agenda:
12:00PM to 12:30pm / Meet and Greet – featuring the Popular pre-made sandwich buffet, which includesham, turkey and roast beef sandwiches, condiments (Mustard, Mayo, horseradish) dill pickles, lettuce tomato, individual bag of chips, assorted fresh fruit and assorted soft drinks.
12:30 to 12:45/ Co hosts, Gary Sarnoff and Barbara Doran welcome the guests.
12:45 to 1:30 / Tom Brown, former first baseman and outfielder of the Washington Senators and starting safety for the Lombardi Packers.
1:30 to 2:00 / Mike Wallace, Co-host of MASN's Nats Talk.
2:15 to 2:30 / Quick Break
2:30 to 3:00 / Bill Turner, was a bat boy for the Washington Senators in 1957and 1958.
3:00 to 3:30 / Ed Baruch, was the scoreboard boy at Griffith stadium during the '56 season.
3:30 to 4:00 / Jack Smiles, author of the book, Bucky Harris: a biography of baseball's Boy Wonder.
4:00 to 4:30 / Paul Scimonelli, author of Roy Sievers.
4:30 to 5:30 / Book signings, memorabilia for sale
To reserve a seat for the meeting please send Barbara Doran a e-mail to barb.doran@verizon.net