This Date in Washington Senators History
March 13
Senators Birthdays
Bruno Block (Born James John Blochowicz) B Mar. 13, 1885 D Aug. 6, 1937
Catcher Bruno Block came to the major leagues in early August of 1907, playing in 24 games for the Washington Senators, hitting .140 in 57 AB.
Out of the majors in 1908 and 1909, Block would return in 1910 to play for 3 seasons with the Chicago White Sox. Block's best year would be 1911 when he'd hit .304 in 39 games and stroke his only major league home run.
Out of the majors again in 1913, Block would return for one last season with the Chicago Whales of the Federal League in 1914, hitting .200 in 44 games.
"Bruno Block" career record
Eric George Adolph Erickson B Mar. 13, 1895 D May 19, 1965
Born in Sweden, Eric Erickson would make his way to the United States and pick up the American game of baseball at an early age, first appearing in a major league game in 1914 at the age of 19.
That first appearance would be with the New York Giants in late October when Erickson would pitch in 7 innings of 1 game giving up 8 hits, 3 walks and 7 runs (none earned).
Out of the major leagues in 1915, Erickson would appear in 8 games for the 1916 Detroit Tigers and then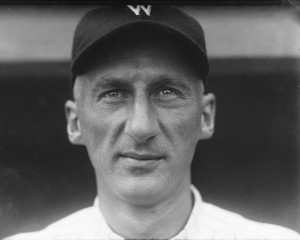 would be out of the majors for another year before returning with the Tigers in 1918. Erickson would pitch in 12 games that season posting a 4-5 record.
Starting the 1919 season with Detroit, Erickson would appear in just 2 games for the Tigers before he was traded to the Washington Senators in early July for Doc Ayers. Erickson would finish the season with the Senators going 6-11 in 20 games.
Erickson would spend the next 3 seasons in a Washington uniform, his most active season being 1920 when he'd appear in 39 games going 12-16. Erickson would finish his major league career as a Senator with the close of the 1922 season.
Eric Erickson career record
Edward Patrick (Patsy) Gharrity B Mar. 13, 1892 D Oct. 10, 1966
Eric Erickson
Here's an unusual entry-someone who played 10 years and spent their entire baseball career with the Washington Senators.
Catcher/1st baseman Patsy Gharrity debuted with the Senators in mid-May of 1916. He'd hit .228 in 39 games his first season.
He'd hit .284 in 76 games in 1917. Gharrity would only make it into 4 game in the World War I year of 1918 but would return in 1919 to play in 111 games hitting .271 with 19 doubles, 4 triples and 2 home runs.
1920 would be Gharrity's most active season as a player when he'd appear in 131 games, however 1921 would be his best season at the plate when he'd hit .310 in 121 games with another 19 doubles, 8 triples and 7 home runs among his 120 hits. He'd be credited with 62 runs scored and 57 RBI's.
Gharrity would play in 96 games in 1922 hitting .256 but would see his average drop to .207 while playing in 93 games in 1923.
Gharrity would not play for the Senators from 1924 through 1928 but would return for brief appearances in 1929 and 1930, his last major league game coming at the end of July 1930.
"Patsy" Gharrity career record
Carlos Alberto (Patato) Pascual B Mar. 13, 1931 D May 12, 2011
The younger, less known brother of Camilio Pascual, Carlos Pascual would join the ranks of Senators Short Timers in late September of 1950 when he'd pitch in 2 games, compiling a 1-1 record with a 2.12 ERA.
You can see a painting of Carlos Pascual in the thread Senators Cuban Connection
Wallace Henry Smith B Mar. 13, 1889 D Jun. 10, 1930
Infielder Henry Smith began his short major league journey with the 1911 St. Louis Cardinals. Playing in 81 games, Smith would hit .216 in 194 AB. Returning with the Cardinals in 1912, Smith would hit .256 in 75 games.
Out of the major leagues in 1913, Smith would spend 1 last season in a Senators uniform in 1914, hitting .196 in 45 games.