This Date in Washington Senators History
March 29
Senators Birthdays
Yesterday we reported on 3 pitchers who were born on March 28th. Today we cover 4 more players, all pitchers, born on March 29th. Must be something about the early spring weather….
William John Dietrich B Mar. 29, 1910 D Jun. 20, 1978
Once again, here's a fine example of a player who spent a long time in the major leagues but a short time with the Senators. In Bill Dietrich's case, his career spanned 16 years, from 1933 through 1948, and he would pitch in 366 games during that time. Only 5 of those games were in a Washington uniform.
Philadelphia born Dietrich would make his major league debut in April of 1933 with the hometown Philadelphia Athletics. Appearing in 8 games that first season, Dietrich would post an 0-1 record with a 5.82 ERA.
Returning with the A's in 1934, Dietrich would go 11-12 in 39 games.
Dietrich would remain with the Athletics through July of 1936 when he was put on waivers.
Selected by the Washington Senators, Dietrich would spend less than 3 weeks with the Nats. Pitching in 5 games for Washington, Dietrich would go 0-1 with a 9.72 ERA when he was waived for the second time in the 1936 season.
Picked up by the White Sox, Dietrich would find a home in Chicago, remaining with the White Sox through 1946.
A couple of his better seasons would be 1940 when he went 10-6 in 23 games and 1943 when he posted a 12-10 record in 26 games.
Released by the White Sox after the 1946 season, Dietrich would return to where he started, signing with the Philadelphia Athletics before the start of the 1947 season. Dietrich would see limited action with the A's, going 5-2 in 11 games in 1947.
He'd be 1-2 in 4 games with the A's in 1948 when he made his final major league appearance in early June.
Alexander Boyd McColl B Mar. 29, 1894 D Feb. 6, 1991
Senators Short Timer Alex McColl was a late bloomer, making his major league debut in late August of 1933 at 39 years of age.
Appearing in 4 games, McColl would post a 1-0 record in 4 games with a 2.65 ERA. He'd also pitch in 2 innings of the 1933 World Series, not surrendering any hits or walks, as the Senators lost to the New York Giants in 5 games.
McColl would be back in 1934, appearing in 42 games, posting a 3-4 record with a 3.86 ERA, his last major league appearance coming at the end of the 1934 season.
Dennis Dale McLain B Mar. 29, 1944 Stil Living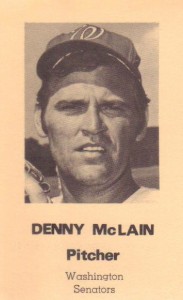 Originally signed by the Chicago White Sox before the start of the 1962 season, Denny McLain would be waived by the White Sox in April of 1963 and selected by the Detroit Tigers.
Making his major league debut in late September of that season, McLain would go 2-1 in 3 games with a 4.29 ERA.
With the Tigers in 1964, McLain was 4-5 in 19 games.
His career would take off in 1965 when he'd post a 16-6 record with a 2.61 ERA.
McLain would win an even 20 games in 1966, while losing 14 and would be selected to the American League All Star squad. He'd compile a 17-16 record in 1967.
In 1968 McLain would post a 31-6 record with a 1.96 ERA and would win the American League Most Valuable Player and Cy Young Awards. Currently, McLain is the last major league pitcher to have won 30 or more games in 1 season.
He'd also be selected for his second All Star Game appearance.
His 31 wins would lead the Tigers into the 1968 World Series. He'd be 1-2 in World Series action, however the Tigers defeated the St. Louis Cardinals in 7 games.
In 1969, McLain would again lead the American League in wins with 24, win his second Cy Young Award and be selected for his third All Star Game.
McLain led the league in games started in both 1968 and 1969 and would also lead the league in sacrifice hits in both of those years. His 28 complete games in 1968 and 9 shutouts in 1969 also lead the AL.
McLain's off-field antics would see him both injured and suspended during a portion of the 1970 season. As a result he'd only pitch in 14 games, his record dropping to 3-5, his ERA swelling to 4.63.
After the 1970 season, McLain was a big part of the still controversial (At least to Senators fans.) trade that sent Eddie Brinkman, Joe Coleman, Jim Hannan and Aurelio Rodriguez to the Tigers in exchange for McLain along with Elliott Maddox, Norm McRae and Don Wert.
Pitching in 33 games for the Senators, McLain would again be a league leader. Unfortunately, this time he led the AL in losses, posting a 10-22 record.
The Senators moved to Texas for the 1972 season but McLain would never play in a Rangers uniform, being traded to the Oakland Athletics in early March.
McLain would pitch in 5 games for Oakland in 1972, going 1-2, his ERA at 6.04 when he was traded to the Atlanta Braves in late June.
McLain would finish the season appearing in 15 games for the Braves, going 3-5 with a 6.50 ERA.
His major league career would end 3 days before his birthday in 1973 when he was released by Atlanta.
Frank Rufus Oberlin B Mar. 29, 1876 D Jan. 6, 1952
Arriving in the major leagues with the Boston Americans (Later Red Sox.) in late September of 1906, Frank Oberlin would pitch in 4 games, posting a 1-3 record with a 3.18 ERA.
Starting the 1907 season in Boston, Oberlin was 1-5 in 12 games when he was purchased by the Washington Senators in mid-August.
Oberlin would finish the 1907 season posting a 2-6 record in 11 games with the Senators.
Sparingly used, Oberlin appeared in 9 games for the Senators in 1909 finishing the season with a 1-4 record.
1910 would be the last season of Oberlin's short major league career when he'd go 0-6 in 8 games, his last appearance coming in late June.