Healthy Zimmerman makes a big difference for Nats
One big difference between the Nationals and New York Mets that allowed the Nats to sweep the weekend series with their National League East rivals was overall team health.
Several key members of the Mets' lineup were out with injuries all weekend, while the Nats' starting lineup was intact by Sunday.
One member of the Nats who is clearly benefitting from relative good health early this season is first baseman Ryan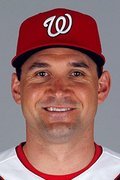 Zimmerman. The team's first draft choice after moving to Washington made it through four of his first five seasons in the majors without missing significant time with injury, but since then, the11-year veteran has played more than 140 games only twice.
In that time, one thing or another has kept him out of the lineup for significant stretches: shoulder problems that led to his move across the diamond from third base to first, a broken thumb, a pulled hamstring, plantar fasciitis, an oblique injury, a strained rib cage or a wrist injury from being hit by a pitch. The injuries not only kept him sidelined, but often kept him from getting into a rhythm when he was able to play again.
So far this season, Zimmerman has been healthy and swinging free and easy, compiling a .373/.422/.729 line going into Sunday night's game, when his 7th home run and 18th and 19th RBIs gave the Nats a three-run cushion. This is the kind of production we saw from Zimmerman in his back-to-back Silver Slugger seasons of 2009 and 2010.
One key difference between now and then, is that in those days, Zimmerman was the only star on teams that went 59-103 and 69-93. Nowadays, Zimmerman doesn't have to carry the offense. He has plenty of help from guys like Bryce Harper and Daniel Murphy. A bat in the lineup with an OPS of better than 1.000 is a plus, not a necessity. It allowed manager Dusty Baker to bat Zimmerman in the cleanup spot last weekend, giving the Nats a lefty-righty balance through the first six spots in their order.
One quality Zimmerman has maintained throughout his career, whether healthy or injured, is an even temperament and good nature. Those traits have also been helpful to him in coping with extreme difficulty in his own family. His mother, Cheryl, was diagnosed with multiple sclerosis when he was 11 years old.
Zimmerman has made good use of his status as a star athlete and a celebrity in the Washington area to start the ziMS Foundation, dedicated to funding support and educational programs on the disease, which according to the foundation's website, affects more than 1 million people worldwide.
The foundation's signature event is "A Night at the Park." Now in its eighth year, the gala has helped the foundation raise more than $3 million. Guests who donate to the ziMS Foundation mingle with Zimmerman, his Nats teammates, members of his family and VIP guests on the club level at Nationals Park, and hear live music. This year's Night at the Park is Monday, May 1, featuring country star Canaan Smith. Tickets are available here.