Looking Back on Jackie Robinson Day – Washington Senators were Behind the Times
The Washington Senators failure to change with the time when it came to signing black ball players probably was one of the reasons the Senators stayed in the bottom tier of the American League.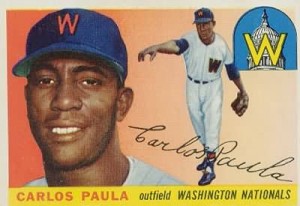 On September 6, 1954, Cuban born Carlos Paula played in his first game with the Washington Senators, making Paula the first black player in Washington Senators history. The Senators signed their first black player seven years after Larry Doby made his American League debut, and Jackie Robinson made his National League debut.
Carlos Paula only played for the Washington Senators until June 23, 1956, that is when he was optioned to the Minneapolis Millers. The Washington Senators did not sign an African-American born player until they signed Joe Black on August 7, 1957.