This Date in Washington Senators History
April 16
1940 On Opening Day at Griffith Stadium, U.S. President Franklin D. Roosevelt throws the ceremonial first pitch.
The Washington Senators, enroute to a 64-90 record and 7th place finish, lose to Lefty Grove and the Boston Red Sox by the score of 1 – 0.
1940 Washington Senators roster
Senators Birthdays
Bernard Keith Allen B Apr. 16, 1939 Still Living
Signed by the newly relocated Minnesota Twins before the start of the 1961 season, 2nd baseman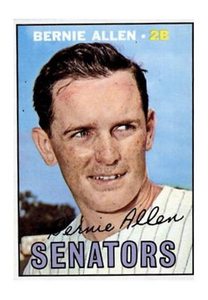 Bernie Allen would quickly make his way to the major leagues, appearing in 159 games in 1962. Allen would hit .269 in his rookie season, connecting for 154 hits including 27 doubles, 7 triples, 12 home runs, 64 RBI and 79 runs scored.
Allen would remain with the Twins through 1966, never duplicating the numbers he produced in his rookie year.
Traded to the Washington Senators, along with Camilo Pascual for Ron Kline, Allen would spend the next 5 seasons in Washington. Perhaps his most successful season in Washington was his last when he hit .266 in 97 games in 1971.
Not long after the second version of the Senators abandoned Washington for Texas, Allen was traded by the newly branded Texas Rangers to the New York Yankees.
Allen would spend the 1972 season in New York, hitting .227 in 84 games. Starting 1973 in New York, Allen was only used in 17 games when he was sold to the Montreal Expos in mid-August. Another 16 games in Montreal, the last coming in mid-September, marked the end of Allen's major league experience.
Alton Leo Brown B April 16, 1925 D Jan 10, 2016
Senators Short Timer Alton Brown spent about 5 weeks on the Washington roster in the spring of 1951. Pitching in 11 and 2/3rds innings in 7 games, Brown would leave the majors with no won-lost record and a career ERA of 9.26.
Frank Fernandez B Apr. 16, 1943 Still Living
Signed by the New York Yankees in mid-September of 1961, it would be 1 day shy of 6 years when Frank Fernandez made his major league debut in mid-September of 1967.
Appearing in 9 games during that late season call up, Fernandez would go 6 for 28 with 2 doubles and 1 home run.
Fernandez would play in 51 games for the Yankees in 1968 and 89 games in 1969.
Traded to the Oakland Athletics after the 1969 season, Fernandez would have the most active season of his career in 1970, appearing in 94 games and hitting .214.
Starting the 1971 season in Oakland, Fernandez would be traded to the Washington Senators, along with Paul Lindblad, Don Mincher and cash in exchange for Mike Epstein and Darold Knowles in early May.
Up to this point in his career, Fernandez had been a catcher and occasional outfielder. During his 6 week stint with the Senators, Fernandez appeared in 18 games, primarily as an outfielder, only playing behind the plate once.
In late June, still in 1971, the Oakland Athletics thought better of the trade and purchased Fernandez back from Washington.
However he'd only remain in Oakland for a little over 2 months, appearing in just 2 games, when he was on the move again, this time traded to the Chicago Cubs.
Fernandez would finish the 1971 season with the Cubs and start 1972 there as well. He'd only play 3 games in 1972, his last major league appearance coming in late May.
Ricardo J. Torres B Apr. 16, 1891 D Apr. 17, 1960
An early member of the Senators' Cuban Connection, and a Senators Short Timer, 1st baseman/catcher Ricardo Torres would debut with Washington as a 29 year old rookie in mid-May of 1920.
Torres played in 16 games with the Senators in 1920, 2 games in 1921 and 4 games in 1922, his last major league game coming in mid-August.
His son, Gil, would also play for the Senators in 1940 and again from 1944 through 1946. (See August 23rd birthdays.)