This Date in Washington Senators History – Flood leaves Senators after 15 games
April 27
1947 – It's Babe Ruth Day at Yankee Stadium. 58,339 fans in attendance hear the Babe give his farewell address. Ruth, who was suffering from throat cancer would succumb to the disease the next year. The Senators spoil the tribute winning 1-0 with the Senators Sid Hudson getting the victory over Spurgeon (Spud) Chandler.
1970 – The Senators trade 3rd baseman Ken McMullen to the California Angels for infielder Aurelio Rodriguez and outfielder Rick Reichardt. Reichardt had received a $200,000 bonus in 1964 to sign with the Angels. At the time he was hitting .167 in 9 games for California. Reichardt would appear in 107 games with the Senators, batting .267 with 70 hits, 15 home runs and 46 RBI. He would be traded to the Chicago White Sox prior to the 1971 season for pitcher Gerry Janeski.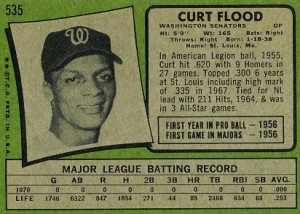 1971 – Curt Flood leaves the Senators after 15 games, he was batting just .200 at the time. In a 22 word telegram to owner Bob Short he writes: "I tried. A year and a half is too much. Very serious problems mounting every day. Thanks for your confidence and understanding". Rumors of financial problems surrounded Flood, in part stemming from his lawsuit against baseball's reserve clause.
Senators Birthdays
George Archie B Apr. 27, 1914 D Sep. 20, 2001
George Albert Archie spent 3 separate, and brief, stints in the major leagues. In 1938, he played in 3 games with the Detroit Tigers. He returned in 1941 to play 105 games with Washington and an additional 9 with the St. Louis Browns. Then, after another 4 year hiatus, (I'm assuming his career was interrupted by WWII.) he returned in 1946 to play in 4 last games with the St. Louis Browns.
Primarily a 1st/3rd baseman, Archie was traded by Washington to the St. Louis Browns for one of April 25th's birthday boys, Bobby Estalella.
Orth Collins B Apr. 27, 1890 D Dec. 13, 1949
Orth Stein (Buck) Collins is another "short timer" with a broken period of time in the majors. Playing 5 games with the New York Highlanders (later Yankees) in 1904, Collins would not return to the majors until 1909 when he appeared in 8 games for the Senators. He was an outfielder who was pressed into 1 inning of relief pitching by Washington.
"Dutch" Hinrichs B Apr 27, 1889 D Aug. 18, 1972
William Louis (Dutch) Hinrichs was a pitcher who played in 3 games for the 1910 Senators. He is charged with 1 loss and an ERA of 2.57 in 7 innings pitched.
"Dutch" Hinrichs career record
"Jug" Thesenga B Apr. 27, 1914 D Dec. 3, 2002
A 30 year old rookie, Arnold Joseph (Jug) Thesenga appeared in 5 games for the Senators in 1944. He started 1 game, pitched 12.3 innings, giving up 18 hits and 9 runs (7 earned) for a 5.11 ERA.
"Kite" Thomas B Apr. 27, 1923 D Jan. 7, 1995
Completing April 27th's birthday list is Keith Marshall (Kite) Thomas. Playing 2 years in the majors, Thomas played the majority of his brief career with the Philadelphia Athletics in 1952 & 1953. He was picked up off waivers by Washington in June of '53, and played a grand total of 9 games in a Senators uniform, mainly as an outfielder.