This Date in Washington Senators History – Ted Williams' debut as the Senators manager
April 7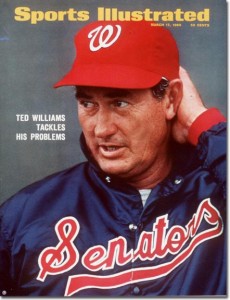 1969 Ted Williams' debut as the new Senators manager is spoiled as the Yankees defeat Washington on Opening Day by a score of 8-4.
Mel Stottlemeyer gets the win for the Yankees, Camilio Pascual is charged with the loss for the Senators. Frank Howard strokes a 2 run homer. The Senators outhit the Yankees 14 to 9 however 2 Washington errors contribute to the loss.
April 7, 1969 boxscore, Yankees 8, Senators 4
Senators Birthdays
William Joseph Hicks B Apr. 7, 1933 Still Living
Originally signed by the Chicago White Sox in 1953, outfielder Joe Hicks would finally debut in the majors in mid-September of 1959. Appearing in 6 games, Hicks would go 3 for 7 at bat with 1 walk.
Hicks would make it into 36 games for Chicago in 1960, his BA dropping to .191.
Selected by the "new" Washington Senators in the expansion draft, Hicks would hit .172 in 12 games for the expansion Senators in their inaugural season.
Hicks would play in 102 games for Washington in 1962, the most active season of his brief career. He'd hit .224 with 4 doubles, 2 triples and 6 home runs.
Sold to the New York Mets after the 1962 season, Hicks would make it into 56 games in 1963, his last major league appearance coming in late September.
Horace Robert Milan B Apr. 7, 1894 D Jun. 29, 1955
The younger brother of Clyde Milan (See March 25th birthdays.), Horace Milan would not enjoy the long career that his brother experienced. In fact, Horace Milan would be limited to 2 brief stints with the Senators in 1915 and 1917.
Debuting with Washington in late August of 1915, Milan would hit .407 in 11 games.
He'd return with the Senators in 1917 to appear in another 31 games, hitting .288 and making his last major league appearance in late September.