This Date in Washington Senators History – Happy Birthday to Dizzy, Happy, Hippo, Ollie and a couple more
April 9
1959 – In the fifth inning against Washington at Griffith Stadium, the Orioles become the first team in history to turn a triple play on Opening Day. Vice President Richard Nixon, a right-hander, substitutes for President Dwight D. Eisenhower and watches the Senators breeze to a 9-2 win.
Pedro Ramos is credited with the complete game win, giving up 7 hits and 2 runs while striking out 6 and walking none. Jack Harshman is the loser for Baltimore.
Baltimore's only runs come from a Gus Triandos 2 run homer in the 9th while Washington gets 2 run homers from Harmon Killebrew and Reno Bertoia.
Opening Day box score, April 9, 1959
1962 President John F. Kennedy throws out the first ball to open the 1962 season at the new District of Columbia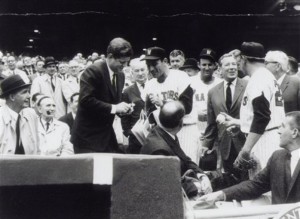 Stadium.
(DC Stadium would later be renamed in honor of the President's brother, Robert F. Kennedy.)
Despite an intermittent rain, a record crowd of 44,383 see Senators pitcher Bennie Daniels comes away the winner, giving up 5 hits and 1 run in a 4-1 Washington victory. Jimmy Piersall triples for Washington while Senators shortstop Bob Johnson strokes the game's only homer.
Opening Day box score, April 9, 1962
1969 After losing the home opener on April 7th, the Senators get their first win for rookie manager Ted Williams with a 6-4 victory over the New York Yankees. Senators' pitcher Joe Coleman goes the distance to get the win, the Yankees Stan Bahnsen is charged with the loss.
Offensive fireworks for the Senators come from doubles by Ed Stroud, Tim Cullen and Mike Epstein. Homering for Washington are Paul Casanova, Frank Howard and Ken McMullen.
Bobby Murcer and Roy White homer for the Yankees.
Senators Birthdays
John Charles Hendricks B Apr. 9, 1875 D May 13, 1943
Debuting with the New York Giants as a 27 year old rookie in mid-June of 1902, outfielder Jack Hendricks only play in 8 games for the Giants going 6 for 26 at bat.
Released by the Giants approximately a week later, Hendricks would be picked up the Chicago Cubs in mid-July. Appearing in just 2 games for the Cubs, Hendricks was 4 for 7 at the plate.
Hendricks would show up on the roster of the Washington Senatorsfor 32 games in 1903. His BA at .179, he'd make his last major league appearance in late September.
Willard Blackmer Morrell B Apr. 9, 1893 D Aug. 5, 1975
Another "late bloomer", pitcher Bill Morrell arrived in the majors with the Senators in 1926 as a 33 year old rookie. Pitching in 26 games that season, Morrell would compile a 3-3 record with a 5.30 ERA.
Out of the majors until 1930 Morrell would appear in 2 games with the New York Giants in 1930. With the Giants in 1931 he'd pitch in 20 games, his record at 5-3 with a 4.36 ERA when he made his last major league appearance in early August.
Oliver Daniel Pickering B Apr. 9, 1870 D Jan. 20, 1952
Outfielder Ollie Pickering joins the list of the "Fab Fourteen", players who had the dubious distinction of playing for the Philadelphia Athletics, St. Louis Browns and Washington Senators during their careers this April 9th.
However, before the American League was even formed, Pickering began his major league career with the Louisville Colonels in early August of 1896. Pickering would hit .303 in 45 games his first season.
Starting 1897 in Louisville, Pickering played in 63 games, hitting .252 when he became a member of the Cleveland Spiders. The change in scenery must have agreed with Pickering as he'd hit .352 in 46 games for Cleveland to complete the season.
Out of the majors from 1898 through 1900, Pickering would return with the Cleveland Blues (later Indians) in 1901. Playing in 137 games in the inaugural season of the AL, Pickering would hit .309.
He'd hit .256 for Cleveland in 1902, being limited to 69 games.
Sold to the Philadelphia Athletics before the start of the 1903 season, Pickering would spend 1903 and 1904 playing for the A's. He'd hit .281 in 137 games in 1903 but would tail off to .226 in 1904.
Taking another hiatus from the major leagues in 1905 and 1906, Pickering would appear in 151 games with the St. Louis Browns in 1907, hitting .276.
Traded to the Washington Senators for Charlie Jones after the 1907 season, Pickering would finish his career hitting .225 for the Senators in 113 games in 1908.
Howard Alvin (Dizzy) Sutherland B Apr. 9, 1922 D Aug. 26, 1979
Washington DC native Dizzy Sutherland joined the ranks of One Game Wonders on September 20th of 1949.
Served a particularly bitter cup of coffee, Sutherland would pitch in 1 inning, being charged with the loss after surrendering 2 hits, 6 walks and 5 earned runs, departing with an ERA of 45.00.
"Dizzy" Sutherland career record
John (Happy) Townsend B Apr. 9, 1879 D Dec. 21, 1963
With a lifetime record of 35 wins and 82 losses in 6 major league seasons, you have to wonder how John Townsend, a native of Townsend, Delaware, acquired the nickname "Happy".
Debuting with the Philadelphia Phillies in April of 1901, Happy Townsend would appear in 19 games his rookie season, compiling a 9-6 record with a 3.45 ERA, his only winning season in the majors.
Jumping to the Washington Senators before the start of the 1902 season, Townsend would spend 4 seasons with the Senators without much success on the mound.
Townsend would go 9-16 with a 4.45 ERA in 1902, 2-11 in 1903, 5-26 in 1904 when he'd lead the AL in losses and 7-16 in 1905.
(If you're keeping track thus far, Townsend's overall record in 4 years with the Senators was 23-69.)
Traded to the Detroit Tigers after the 1905 season for Frank Kitson, Townsend would be traded again less than 3 weeks later to the Cleveland Naps.
Townsend would spend 1 last season in the majors with Cleveland in 1906, compiling a 3-7 record with a 2.91 ERA.
"Happy" Townsend career record
James Leslie (Hippo) Vaughn B Apr. 9, 1888 D May 29, 1966
Another long time major leaguer who spent a brief time with the Senators, Hippo Vaughn made his major league debut with the New York Highlanders (later Yankees) in mid-June of 1908.
He'd appear in just 2 games, pitching in 2 and 1/3 rds innings, finishing his short stint in New York with a 3.86 ERA.
Returning in 1910, Vaughn would appear in 30 games, posting a 13-11 record with a 1.83 ERA. Vaughn would go 8-10 in 1911 and 2-8 with a 5.14 ERA in 1912 when he was released by the Highlanders in late June.
Claimed by the Washington Senators, Vaughn would appear in 12 games for Washington going 4-3 with a 2.89 ERA before he was sold to Kansas City of the American Association.
Picked up by the Chicago Cubs in early August of 1913, Vaughn would distinguish himself in Chicago by winning over 20 games in 5 seasons, and barely missing with 19 wins in 1920.
Vaughn would finish the 1913 season with the Cubs going 5-1 with an impressive 1.45 ERA.
Back for a full season in 1914, Vaughn would compile the first of his 20 win seasons by going 21-13 in 42 games. Vaughn would remain with the Cubs through early July of 1921, having won 151 games over the course of 9 seasons.
Vaughn would be instrumental in leading the Cubs to the National League pennant in 1918 with a 22-10 record and a 1.74 ERA.
Unfortunately the Cubs lost to the Red Sox in 6 games, with Vaughn compiling a 1-2 record in the World Series. Vaughn is credited with 3 complete games and a 1.00 ERA. He was charged with the loss in the 1st game of the series, the Red Sox winning 1-0. The winning pitcher? Some guy named Ruth.
Vaughn was also charged with the loss in Game 3 a 2-1 contest with Carl Mays the winner. Vaughn would prevail in game 5, a 3-0 victory over Sam Jones.
1921 would be Vaughn's last season in the majors. Suffering from arm woes, Vaughn was just 3-11 with a 6.01 ERA when he made his last major league appearance in early July.
SABR biography of Hippo Vaughn by Jan Finkel