This Date in Washington Senators History – The Big Race
April 4
1948 Prior to an exhibition game in Orlando between the Philadelphia Athletics and the Senators, A's owner-manager Connie Mack, age 85, and Senators's owner Clark Griffith, age 78, stage a footrace. After entering the field in an ambulance, Mack and Griffith race from 3rd base to home plate and finish in a tie.
Senators Birthdays
Joseph Bokina B Apr. 4, 1910 D Oct. 25, 1991
Senators Short Timer Joe Bokina spent about 3 weeks on the Washington roster in the spring of 1936. Pitching in 5 games, Bokina would see his final major league action in early May, his record at 0-2 with an 8.64 ERA.
Michael Peter Epstein B Apr. 4, 1943 Still Living
Signed by the Baltimore Orioles in 1964, 1st baseman Mike Epstein would make his major league debut with the Orioles in mid-September of 1966. Playing in 6 games, Epstein would go 2 for 11 with a triple and 3 RBI.
Starting the 1967 season in Baltimore, Epstein would only play in 9 games for the Orioles before he was traded along with Frank Bertania to the Washington Senators for Pete Richert. Epstein would finish 1967 playing in 96 games for Washington, hitting .229 with 9 home run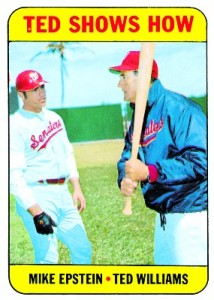 s and 29 RBI.
Playing in Washington through early May of 1971, Epstein's best year in a Senators uniform would come in 1969 when he'd hit .278 with 30 home runs.
Traded to the Oakland Athletics along with Darold Knowles for Frank Fernandez, Paul Lindblad, Don Mincher and cash in early May, Epstein would finish the season playing in 104 games for the A's, hitting .234 with 18 home runs. He'd also lead the AL in getting hit by pitches with 12.
Epstein would remain in Oakland for 1972, raising his BA to .270 and stroking 26 homers.
Traded to the Texas Rangers after the season, Epstein would only play in 27 games for Texas when he was on the move again, this time traded to the California Angels.
Epstein would play in 91 games for the Angels in 1973. He'd start the 1974 season there as well but would be released in early May having played his last game in late April.
Gilbert Raymond Hodges (Born Gilbert Ray Hodge) B Apr. 4, 1924 D Apr. 2, 1972
Never a player for the Senators, Gil Hodges would take over the managerial reins from Mickey Vernon (and 1 game interim manager Eddie Yost) 40 games into the 1963 season.
Hodges did have quite an illustrious career with the Brookly Dodgers, the Los Angeles Dodgers and the New York Mets from 1943 through 1963, missing the World War II years of 1944-1946 when he served in the US Marine Corps.
Debuting with the Dodgers in October of 1943, Hodges would make it into 1 game, playing 3rd base. He wouldn't be back until 1947 when he'd make it into 23 games as a catcher. The 6′ 2″ tall Hodges would prove to be a better fit at 1st base and he'd spend most of the rest of his career covering 1st although he was used as an outfielder and occasionally as a 3rd baseman.
Hodges won Gold Gloves in 1957, 1958 and 1959 and was a member of the National League All Star Team every year from 1949 through 1955 and again in 1957.
Having played his entire career in a Dodgers uniform through 1961, Hodges would be selected by the New York Mets in the expansion draft before the start of the 1962 season. Playing part time, Hodges would hit .252 for the Mets in 1962.
1963 would be a strange year-Hodges would appear in 11 games for the Mets before he was traded to the Washington Senators in exchange for Jimmy Piersall.
As has already been mentioned, Hodges took over as manager of the Senators, then in their 3rd year as an expansion team. The popular Vernon had been fired with the team at 14-26 and firmly mired in 10th place. The Senators would finish the year with a 56-106 record.
Washington would finish in 9th in 1964, 8th in both 1965 and 1966 and would reach a heady 6th place in 1967 under Gil's leadership.
After the 1967 season, Hodges would be traded back to the New York Mets in exchange for Bill Denehy (See March 31st birthdays.) and $100,000.
Hodges would lead the Mets from worst (actually 9th place) in 1968 to first with the "Miracle Mets" World Series win in 1969.
Meanwhile, back in Washington, the Senators fell back to 10th place in 1968 after Gil's departure.
The Mets would finish in 3rd place in 1970 and 1971. Just before the start of the 1972 season, Hodges would be tragically felled by a fatal heart attack at age 48, 2 days before his 49th birthday.
A good write-up on Hodges' career can be found here:
SABR biography of Gil Hodges by John Saccoman
Tristram E. Speaker B Apr. 4, 1888 D Dec. 8, 1958
Hall Of Famer Tris Speaker played for 22 seasons in the American League, appearing in 2,789 games. Only 141 of those games were in a Senators uniform.
Making his major league debut in mid-September of 1907 with the Boston Americans (later Red Sox), Speaker would make it into 7 games going 3 for 19. He'd hit .224 in 31 games in 1908.
Finally getting a chance to play regularly in 1909, Speaker would hit over .300 for the next 10 seasons. After hitting .296 in 1919, he'd hit over .300 again from 1920 through 1927.
A centerfielder for most of his career, Speaker was noted for playing shallow. In fact more than once he executed a double play at second base by catching low line drives on the run and then catching a runner off base.
After 8 seasons in Boston, where he played in 2 World Series (1912 and 1915), Speaker was traded to the Cleveland Indians where he'd play for the next 11 years. Speaker would serve as a player/manager with the Indians from 1919 through 1926 and would lead the club to the World's Championship in 1920 against the Brooklyn Dodgers.
After the 1926 season, where he hit .304, Speaker was released by the Cleveland Indians.
He'd be signed the same day by the Washington Senators. Playing in 141 games for the Senators in 1927, he'd hit .327 with 73 RBI and 71 runs scored.
However, even with that impressive performance, Speaker was released by the Senators in February of 1928.
He'd be signed by the Philadelphia Athletics 4 days later and would spend his last season in the majors appearing in 64 games, his last major league appearance coming in late August.
After departing the majors, Speaker would serve as a player/manager of the Newark Bears of the International League in 1929 and 1930.
Speaker would later broadcast games for the White Sox and Cubs in Chicago and eventually end up back in Cleveland as a broadcaster and scout. At Bill Veeck's request, Speaker would work with Larry Doby on his fielding skills and eventually work with a number of Indians players in spring training.
An outstanding hitter during his career, Speaker would retire with a lifetime batting average of .345.
Speaker was elected to the Hall Of Fame in 1937.
From SABR, a much more detailed write-up of Tris Speaker can be found here: SABR biography of Tris Speaker by Don Jensen
Joseph Franklin Vosmik B Apr. 4, 1910 D Jan. 27, 1962
Another outfielder who spent 13 seasons in the major leagues, with only a very brief stint in Washington, Joe Vosmik made his major league debut with the Cleveland Indians in mid-September of 1930.
Vosmik would play regularly beginning in 1931, hitting .320 in 149 games in his first full season. Vosmik would remain with the Indians through 1936, hitting over .300 in 4 seasons, leading the AL in hits with 216, doubles with 47 and triples with 20 in 1935, earning Vosmik selection to the 1935 All Star team as the starting right fielder.
Traded to the St. Louis Browns after the 1936 season, Vosmik would spend just 1 season with the Browns, hitting .325 in 144 games in 1937.
After the 1937 season, Vosmik was on the move again, this time traded to the Boston Red Sox. Vosmik would hit .324 for the Red Sox in 1938 and would again lead the AL in hits with 201. He'd play in 145 games for the Red Sox in 1939, his BA dropping to .276 and he'd lead the league in grounding into double plays.
Sold to the Brooklyn Dodgers before the start of the 1940 season. Vosmik would hit .282 for Brooklyn in 1940 but his BA would plummet to .196 in 1941 and he'd be released by the Dodgers in early July after appearing in only 25 games.
Vosmik would resurface in the majors in 1944 for 14 games in a Senators uniform. Vosmik was hitting at a 7 for 36 pace when he appeared in his final major league game in late July.