This Date in Washington Senators History – Umpire Emmett Ashford breaks color barrier
April 11
1966 – Vice President Hubert H. Humphrey and 44,467 other fans are in attendance as the Washington Senators lose to the Cleveland Indians by the score of 5-2. Washington carried a 2-1 lead into the 9th inning when the Indians score 4 runs to seal the victory.
"Sudden" Sam McDowell gets credit for the win with Sonny Siebert earning the save. Pete Richert is charged with the loss. Frank Howard homers in the losing cause.
Making the game historically significant, Emmett Ashford, the first African-American umpire in the major leagues,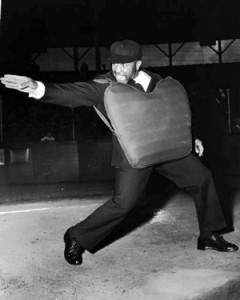 debuts making the calls at 3rd base.
Opening Day box score, April 11th, 1966
Senators Birthdays
Scott Russell Cary B Apr. 11, 1923 D Feb. 28, 2011
Senators Short Timer Scott Cary would spend approximately 4 and 1/2 months on the Washington roster in 1947. Debuting in early May, Cary would pitch in 23 games compiling a 3-1 record with a 5.93 ERA. He'd make his last appearance in mid-September.
Spencer Armstrong Pumpelly B Apr. 11, 1893 D Dec. 5, 1973
One Game Wonder Spencer Pumpelly would enter the Senators Coffee Shop on July 11 of 1925. Pitching 1 inning, Pumpelly would surrender a home run. He'd depart with an ERA of 9.00.
Spencer Pumpelly career record
Arthur Lincoln Quirk B Apr. 11, 1938 D Nov. 22, 2014
Signed by the Baltimore Orioles before the start of the 1959 season, pitcher Art Quirk would make his major league debut with Baltimore in mid-April of 1962.
Appearing in 7 games for the O's that season, Quirk would compile a 2-2 record with a 5.93 ERA.
After the season, Quirk, along with Marv Breeding and Barry Shetrone, were traded to the Washington Senators for Pete Burnside and Bob Johnson.
Quirk would appear in another 7 games for the Senators in 1963, his record 1-0 with a 4.29 ERA when he made his last major league appearance in late May.