This Date in Washington Senators History – Welcome back Goose
April 3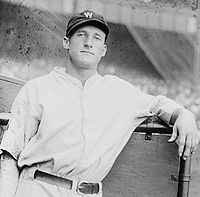 1938 Goose Goslin returns to the Washington Senators for his third, and final, stint. Goslin, who played for the Senators from 1920 through 1930 and again in 1933, has the distinction of making it to the World Series with all 3 of Washington's pennant winning teams (1924, 1925 & 1933) and would also play in the World Series of 1934 and 1935 with the Detroit Tigers. 1938 will prove to be Goslin's last year in the major leagues.
Senators Birthdays
Robert Barry Moore B Apr. 3, 1943 Still Living
Signed by the Senators before the start of the 1962 season, Barry Moore would get his first taste of the major leagues in late May of 1965. Pitching 1 inning, Moore would surrender 1 hit, 1 walk and give up 1 unearned run.
Back with the Senators in 1966, Moore would pitch in 12 games, finishing the season with a 3-3 record. Moore would be 7-11 in 27 games in 1967, 4-6 in 32 games in 1968 and 9-8 in 31 games in 1969.
After the 1969 season, Moore would be traded, along with Dennis Higgins to the Cleveland Indians for Ron Law, Dave Nelson and Horacio Pina.
Moore would be 3-5 for the Indians in 13 games when he was traded again, this time to the Chicago White Sox. He'd finish the season, and his major league career, going 0-4 in 24 games for Chicago, his last appearance coming at the end of the 1970 season.
Moore would be traded again after the 1970 season to the New York Yankees, however he would not return to the majors.