Mantle's Tape Measure Home Run
H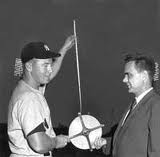 e did not play for the Senators but he sure made a lot of history when he played against the Senators in Washington. The person I am referring to is Mickey Mantle.
Mickey Mantle must have loved spring time in the Nation's Capital as he hit some of the longest home runs ever recorded. It was clear Griffith Stadium and the Washington Senators were no match for Mantle on the date of April 17th.
On that date in 1953, Mickey belted a 565-foot home run out of Griffith Stadium off of Senators' pitcher Chuck Stobbs. The Yanke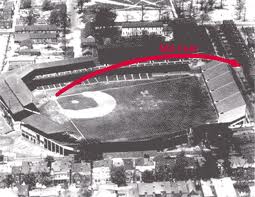 es PR director Red Patterson coins the term "tape measure home run" during the game.
On the same date in 1956 Mickey crushes two Opening Day home runs as President Eisenhower cheers Mickey from his seat behind the Senators' dugout. Both of these home runs cleared the 31-foot wall in center-field and out of Griffith Stadium. The first hit a house across the street from the park. The second hit some trees and rolls onto Fifth Street. At the time, the only other player to reach the trees was Babe Ruth.