Nats' National League Debut
April 29, 1886
The Washington Nationals made their National League debut when they played the Philadelphia Quakers at the Swampoodle grounds in Washington D.C. The veteran Philadelphia ball club was managed by Harry Wright and the Washington ball club was managed by Mike Scanlon.
The Washington fans were eager to see how their new Nationals team would fare against the Quakers who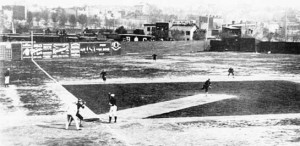 finished the 1885 season in 3rd place in the National League with a 56-54 record.
The local fans were delighted as the Nationals' 27 year-old starting pitcher Dupee Shaw out pitched the Quakers' 23 year-old starter Dan Casey and captured the opening day victory by the score of 6-3.
The Nationals will go on to beat the Quakers in the three game series two games to one. The Washington fans and their ball club will realize soon enough that one series doesn't guarantee you a successful season.
The Nats improved their record to 3-1 when they beat the Boston Beaneaters 12-11. After that victory the Nationals went on to lose their next twelve games. The Nats struggled through the rest of the '86 season as the team ended their inaugural NL season in last place in the eight team league, with a record of 28-92, and finished 60 games behind the first place Chicago White Stockings.
Team Name                        G    W    L    T   PCT    GB    RS   RA
Chicago White Stockings        126   90   34    2  .726     -   901  555
Detroit Wolverines             126   87   36    3  .707   2.5   836  538
New York Giants                124   75   44    5  .630  12.5   693  558
Philadelphia Phillies          119   71   43    5  .623  14.0   620  498
Boston Beaneaters              118   56   61    1  .479  30.5   657  659
St. Louis Maroons              126   43   79    4  .352  46.0   548  712
Kansas City Cowboys            126   30   91    5  .248  58.5   494  874
Washington Nationals           125   28   92    5  .233  60.0   444  799