Mickey's Horsehide
I received a wonderful e-mail from Jim Vankoski, this morning.
Mark, thought you would get a kick out of this. Jay saw Mickey's Horsehide on our website. His father Jim Small was only 20 years old when he signed it playing for Detroit. That now makes him 80 . Most likely the youngest player to sign. With the passing of Jim Bunning there are now 52 living members of Mickey's Horsehide Club. Jim
This is really cool. I would love to get a copy. My Dad, Jim Small is one of the guys who signed it, and I would really like to surprise him with it.
Thanks for everything you are doing.
Jay Small
In 1957,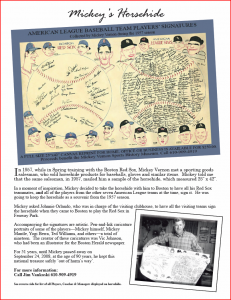 while in Spring training with the Boston Red Sox, Mickey Vernon met a sporting goods salesman, who sold horsehide products for baseballs, gloves and similar items. Mickey told me that the same salesman, in 1957, mailed him a sample of the horsehide, which measured 25" x 42".
In a moment of inspiration, Mickey decided to take the horsehide with him to Boston to have all his Red Sox teammates, and all of the players from the other seven American League teams at the time, sign it. He was going to keep the horsehide as a souvenir from the 1957 season. Mickey asked Johnnie Orlando, who was in charge of the visiting clubhouse, to have all the visiting teams sign the horsehide when they came to Boston to play the Red Sox in Fenway Park.
Accompanying the signatures are artistic. Pen-and-Ink caricature portraits of some of the players—Mickey himself, Mickey Mantle, Yogi Berra, Ted Williams, and others—a total of nineteen. The creator of these caricatures was Vic Johnson, who had been an illustrator for the Boston Herald newspaper.
For 51 years, until Mickey passed away on September 24, 2008, at the age of 90 years, he kept this national treasure safely 'out of harm's way'.
For more information: